Factions | A Murder Mystery
SKU:
FACTION
|
UPC:
731882224986
Availability:
Instant Download (PDF)
Invite your friends over for an exciting night of mystery. You will have a blast sorting them into the four factions - humans, sorcerers, vampires, and werewolves. The factions will come together in hopes of saving the planet from deadly asteroids - but ultimately, they will be faced with an untimely and seriously unfortunate murder that they must solve. Can you beat the clock and solve the murder while coming up with a plan to save the Earth? Humanity is counting upon you.
The main game is for 8-12 players, ages 14+ for difficulty. There are expansion packs (purchased separately) that expand to 160+ players with expandable teams. This is the instant download version of the game. You will have everything you need to play upon purchase - no shipping fees, and no wait times, as nothing needs to be shipped. For the party ready pack, click on the link below in the helpful links section.
This game was updated on 2/21/2023
Helpful Links:
8 character, Expansion pack #1 - Purchased separately
8 character, Expansion pack #2 - Purchased after Expansion pack #1
8 character, Expansion pack #3 - Purchased after Expansion pack #2
Murder Mystery Synopsis:
NASA scientists have made an official Doomsday announcement that an unexpected cluster of asteroids will strike Earth in only ten days. They predict this collision will lead to global mass devastation. The top astrophysicists have exhausted all efforts to prevent the disaster, and the outlook for Mother Earth is grim.
The vampire, sorcerer, and werewolf factions have formally announced their existence to the humans and have arranged a meeting to form an alliance and save the planet. The faction leaders believe, with their combined skills, they will be able to band together and stop this catastrophe. But that can only happen if this unprecedented gathering goes well.
The factions will gather in the French Quarter of New Orleans at Dauphine Place - a legendary house of horrors. This will be the first time that supernatural beings have met with humans. Will the alliance save the world? Or, will the apocalypse commence? This is where your story begins.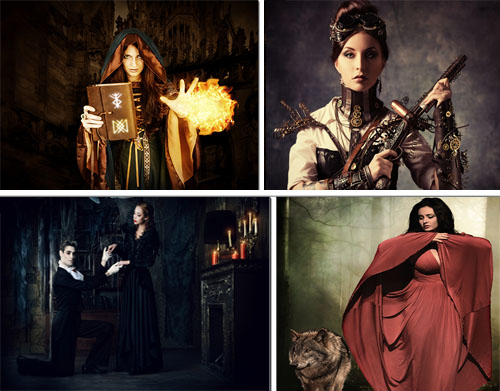 For more information about the four factions, head over to yourmysteryparty.com/fourfactions
How to Host a Larger Party:
The expandable team players are duplicate players that may be played in 1 of the 4 teams as follows. You must purchase all expansion packs (#1-3) to have this many possible players:
Esme Willow – invite up to 42 additional Vampire players as the employees of her Planetary Defense Coordination Office
Plague Redwood – invite up to 42 additional Sorcerer players as the members of his rogue group of rebel Sorcerers.
Kestrel Lynx – invite up to 42 additional Werewolf players as the members of the Greenland Werewolf Clan.
Holly Nox – invite up to 42 additional Human players as the members of her rocket scientist team at NASA
Follow My Mystery Party's board Factions: A Murder Mystery Party Game on Pinterest.
If you wish to host this game for profit, you will need a commercial license - click here.
Minimum age:

14 years (for difficulty)

Difficulty rating:

Moderate, 6/10

Gender of character roles:

Coed

# of players in main game:

8-12

Expansion pack(s):

3 packs of 8 characters (all purchased separately)

Expandable team players:

Expands with the expansion packs to over 200 players with teams

Date of publication:

Last revised on 2/21/23

Unique content:

An ongoing side game with the murder mystery of converting everyone to your faction. This is optional, but hilariously fun.
Reviews
Long-time mystery party enthusiast, first-time using My Mystery Party

This was my first time using this company, previously I had mostly used a competitor. The instructions were helpful and explained everything well. The storyline kept everyone involved, and the night went well, without a hitch! This party included a factions minigame where you try to convert other players to your faction throughout the investigation. This was great fun, and we thoroughly enjoyed it! There was a downside in that the instructions for this were very long and a little confusing, so it took a while to explain to the guests, and many of them still didn't fully understand. Nevertheless, we loved the game, and I wish more mystery parties included plot-driven games like this!

thank you!

We wanted to host a different kind of Halloween party, so we decided to try a murder mystery dinner night. Everything was sent for a successful evening! All details were well thought out. It was such a fun night! Everyone got right into character and acted their parts. Costumes were unbelievable! The decor consisted of skulls, cobwebs, eerie floating candles with color themes in black, white and purple (Definitely New Orleans style) I would recommend this game! The only disappointment was that it didn't conclude whether or not we saved the earth (which was the ultimate purpose of our gathering) Great night otherwise! We will purchase another game in the future! ------------------------------------ My Mystery Party: thank you for your valuable feedback. We have taken your advice and tightened up the story ending for this game. We always strive to improve and we are glad you had a blast!

Awesome Halloween themed party

This one was so much fun. We have more men that play so not many are happy playing female roles. Still, everyone enjoyed themselves.

Great time had by all. The costumes were phenomenal, the story was intriguing and everything went smoothly. Due to time constraints, we couldn't play the bonus games, but they looked like fun and we plan to play later.