Factions | A murder mystery party game
SKU:
FACTPRP
|
UPC:
731882224993
Availability:
Usually ships from our store within 2-3 business days.
Invite your friends over for a night of mystery as Vampires, Sorcerers, Humans and Werewolves. The four factions will work together on a plan to save the Earth from deadly asteroids! The game is for 8-12 guests, ages 14+ for difficulty.
Select the party ready option above, and our staff will fold and slip the clue cards for rounds one, two, and three into the envelopes to prevent you from seeing spoilers on the round cards. If you do not select this option, you will have some assembly required with your kit.
Helpful Links:
---
Mystery Synopsis
An official Doomsday announcement was made by NASA scientists that an unexpected group of asteroids will strike Earth in only ten days, leading to mass devastation around the globe. Top astrophysicists have exhausted all efforts to prevent the collisions, and the outlook for the planet is quite grim.
The Vampire, Sorcerer, and Werewolf Factions have formally announced their existence to the humans and have arranged a meeting to form an alliance and strategize against this cluster of cosmic boulders to save the world. They believe with their combined skills; they will be able to ban together and stop this catastrophe in the nick of time. That is, if this unprecedented gathering goes well.
The Factions have agreed to meet at the former house of horrors of New Orleans, Louisiana—Dauphine Place, a legendary residence of the French Quarter. This will be the first time in history that supernatural beings have met with the humans. Will the alliance save the world, or start the apocalypse early?
This is where your story begins.
The expandable team players are duplicate players that may be played in 1 of the 4 teams as follows. If you order the duplicate team players to be prepared with your game, we will divide them up into the 4 factions to be played under the following team leaders.
Esme Willow – invite up to 42 additional Vampire players as the employees of her Planetary Defense Coordination Office
Plague Redwood – invite up to 42 additional Sorcerer players as the members of his rogue group of rebel Sorcerers.
Kestrel Lynx – invite up to 42 additional Werewolf players as the members of the Greenland Werewolf Clan.
Holly Nox – invite up to 42 additional Human players as the members of her rocket scientist team at NASA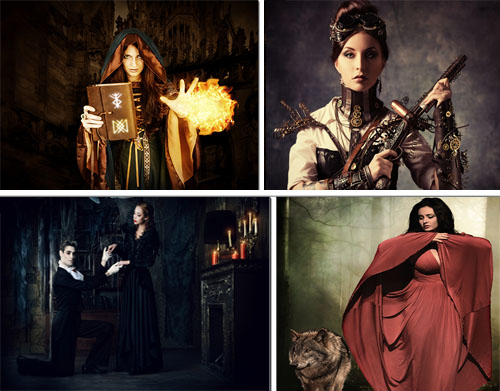 For more information about the four factions, head over to YourMysteryParty.com/fourfactions
Follow My Mystery Party's board Factions: A Murder Mystery Party Game on Pinterest.
# of players:

8-12

Minimum age:

14 years (for difficulty)

Expansion pack(s):

Will have 3 expansion packs of 8 players each

Expandable?:

Will be expandable to over 200 players

Gender of players:

Co-ed
Reviews
Like being inside of a movie

We were submersed in the story and my friends dressed up and played their roles spot on. Intriguing mystery, details were spot on, and all the extras helped to make this a memorable evening. I'd suggest doing all the challenges. I also suggest getting this boxed set, as it is worth it.