Posted by Dr. Bon Blossman on Feb 4th 2020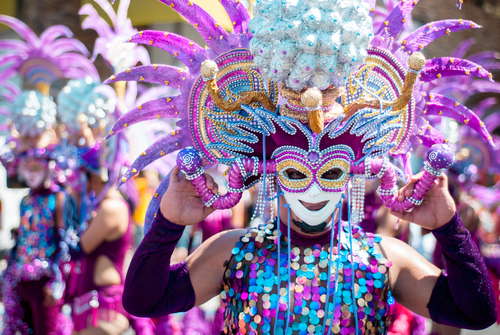 No matter where you land on the calendar, there is always the next holiday around the corner to give you an excuse to start dreaming about your next fabulous party. Mardi Gras always falls on a Tuesday - Shrove Tuesday or Fat Tuesday. The following day is Ash Wednesday, which commences the forty-day Lent season for Western Christians, which is the six weeks (or seven Wednesdays) of penitence before Easter. The reason it's referred to as Fat Tuesday is it's the last day of feasts and parties before Lent, a period to repent.
Whatever your beliefs are, we can all agree that Mardi Gras is a time to celebrate life. The early days (133-31 BC) were thought to be linked to celebrations of spring and fertility, honoring the God of Agriculture, Saturn. Many traditions have morphed since then, but we can all agree, it's a celebration filled with positive spirits, fun, and the appreciation of being alive and well.
Mardi Gras is the big party season in old New Orleans - filled with parades, balls, and other fun traditions. However, the celebration didn't originate in the Big Easy. Mardi Gras is celebrated around the globe. Carnival season begins each year on January 6th, the Twelfth Night, and ends at Fat Tuesday. Carnival season ends on Fat Tuesday. Therefore, plan your party anytime within these dates to be legit. But also, you can host a Mardi Gras themed party at any time of the year and get away with it - nobody is going to care what date it is if they get to have fun celebrating such a fun and positive theme.
KREWES: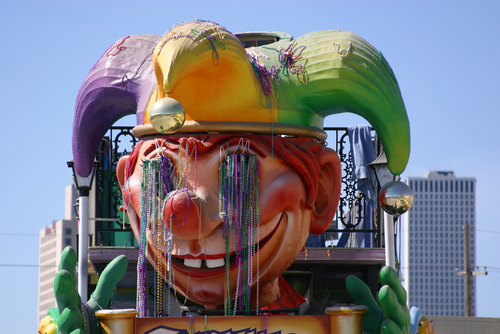 If you've been looking into hosting a Mardi Gras party, you might have seen the term Krewe. This is a term for the Carnival organizations in New Orleans. The name was coined by the original Mystic Krewe of Comus - the original secret society that was created in 1857. Each Krewe is a private club. The Krew will host celebrations throughout the celebratory season and will create a parade float for a designated parade. The theme of the float, the giveaways, and the costumes for the float riders are all unique and the theme is likely to change each year.
If you wanted to put your own spin to the party, you could assign groups of guests into Krewes. Allow them to name their Krewe, wear themed costumes, and create a mock (miniature) float to bring to the party. The day of the party, use these floats for a display and this can help boost your decor! Also, why not judge for the best float and give a prize?
THE VENUE:
Mardi Gras parties can be anything from a home party in a living room to a formal bash called a Bal Masque in a hotel (or other) ballroom. A Bal Masque is the traditional term for a formal ball held for the Krewe. It honors the royalty that were chosen for the year, and they will be presented during the Ball with dramatic performances, elegant gowns, and tuxedos, dancing, themed food, and amazing music.
THE DECOR:
Mardi gras décor is typically going to be flamboyant, and usually within a traditional color scheme of green, purple and gold. You cannot use enough sequins, glitter, feathers when you decorate and throw in a few fun masks - and you've got a great start to your celebration. Most party stores will have a Mardi Gras section where you can pick up themed items or get ideas for your own DIY.
ENTERTAINMENT:
My Mystery Party has a few options for a Mardi Gras murder mystery game.
| | | |
| --- | --- | --- |
| A fun Mardi Gras themed murder mystery game set in good ole' New Orleans for 8-12 guests, ages 15 and up (due to difficulty)! | A hilarious Mardis Gras themed murder mystery party set in Old New Orleans on Bourbon Street for 8-14+ guests! Ages 14+ due to difficulty. | An entertaining Mardi Gras Masquerade Ball themed murder mystery party for 7-9 guests ages 15 & up in an old mansion setting. Gender flexible characters! |
| | | |
Consider playing the fun bonus games that come with each mystery party and use beads as prizes. Give specialty beads for the winner(s) of the mystery party game.
What to serve: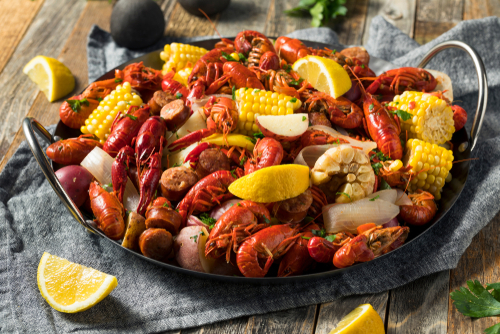 Do a crawfish boil! If you have the large pot/turkey fryer with a draining basket, grab some salt, garlic, bay leaves, Zatarain's crawfish boil seasoning, small red potatoes, and corn on the cob (cut in half). And, you'll need live crawfish, cleaned. Boil the water and add the seasoning. First, cook the potatoes for 10 minutes. Add the corn, and go another five minutes. Add the live crawfish and cook for fifteen minutes. Remove the strainer basket and dump them on a clean tray. Be authentic and cover a table with newspaper and serve them with a roll of paper towels.
Shrimp and Grits are always a great choice. Or some creole crab cakes, dirty rice, red beans and rice are other great options.
You can find many of delicious recipes online for Crawfish etoufee, seafood or chicken and Andouille sausage gumbo, and shrimp or oyster po'boys are also a New Orleans favorite.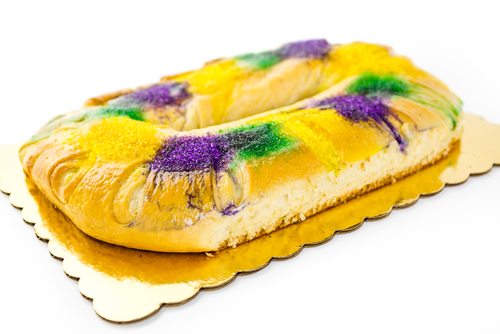 For dessert, you must have a King's Cake. Many traditions originate with the King cake in many countries - some having Christmas holiday roots and others with Mardi Gras. There is a plastic baby hidden within this delicious dessert that symbolizes great fortune and prosperity for the one who finds it. That person is also responsible for buying the cake the following year. Also, with Mardi Gras, the finder is designated as either the King or Queen for that evening. It's just a fun twist to the night - and who doesn't love dessert? There are recipes online for King Cakes (don't forget the tiny baby), or around Mardi Gras time, you might be able to find one at your local grocery store. There are also places, like Goldbelly, online that will deliver King Cakes.
For more DIY ideas:
Follow My Mystery Party's board Murder at the Mardi Gras Masquerade Ball - Murder Mystery Party on Pinterest.