Posted by Dr. Bon Blossman on Sep 15th 2018
Helpful tips on how to host a Halloween murder mystery party.
1. Make invitations that people will talk about.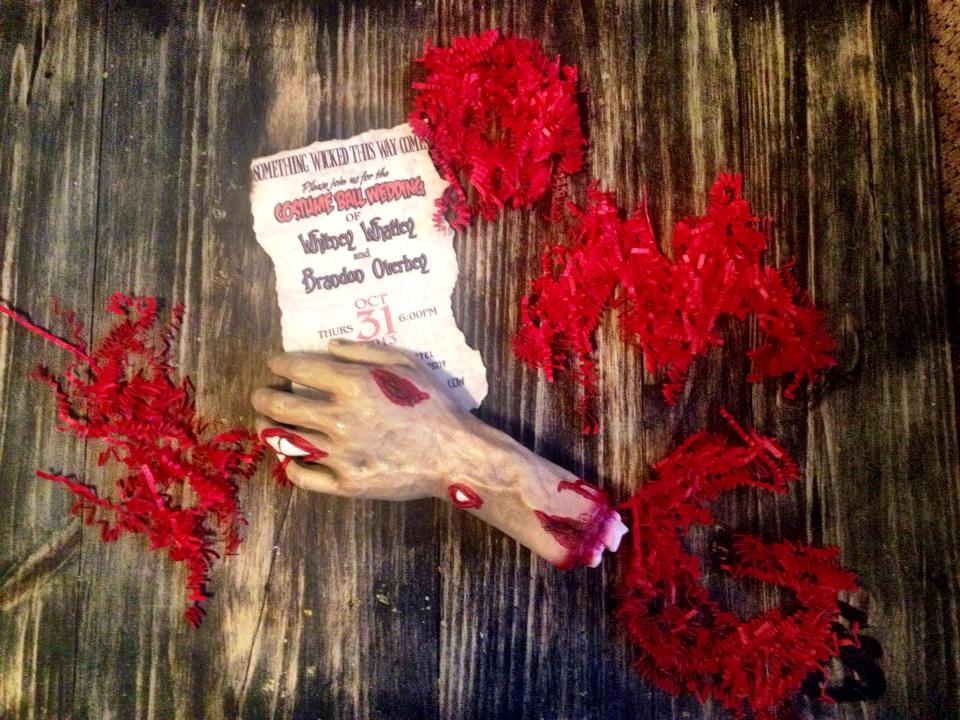 For a wedding I planned on Halloween of 2013, I designed bloody zombie hand invitations. After getting a few samples of zombie hands, I found a company where I purchased some zombie hands in bulk. There are some pretty lousy zombie parts out there for sale, so it's worth it to try one out before you commit. Nevertheless, I found good quality ones at about 3$ a piece. I purchased a large box of red crinkle paper and coffin shaped invitation boxes (you can find these online during Halloween). After designing a simple invitation in Photoshop, we printed on parchment paper and burned the edges of the paper with a lighter. I did this outside - far away from the house.
I scrolled the burned invite and placed inside of the zombie hand - on top of the crinkle paper in the coffin box. It was about $5 per invitation plus postage, but it was well-worth the hoopla that ensued. The invitations are what your guests will see first. There's nothing wrong with a quick e-Vite or Facebook event page - but that's not going to be as exciting.
Some other ideas for spooky invitations are as follows:
- Either make paper mache or purchase coffin shaped invitation boxes. Create a paper mache mummy doll with a flat surface on the abdomen of the doll where you can write your party details. Make your guests unwrap the gauze to see the invite.
- Tag an invite to a miniature witch's broom and place in a box with green crinkle paper. You can purchase these at a craft store like Michaels, or make them out of wooden dowels, yarn, and jute. Glitz them up with sequins, glitter, or jewels for a fun effect.
- Purchase coroner toe tags (do a Google search for that). Dip the cards in strong tea and allow drying for an antiqued effect - or splash fake vampire blood along the edges. Add your party details on the tag and tie to a fake toe (yes, they sell these in Halloween prop stores - or on Amazon). Place in any box with the red crinkle paper.
2. Put great effort into the entrance of your party.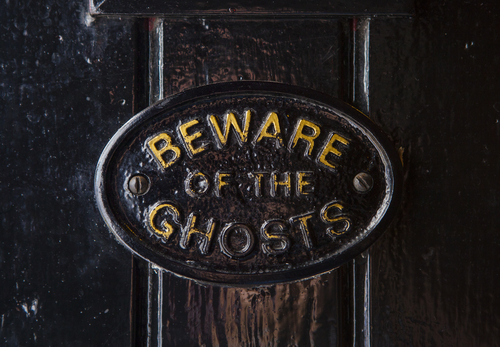 Scenario A: you pull your car next to the curb of the party, and the first thing you notice is an eerily lit dense fog. A shadowy figure lurks in the mist, and you start to second guess yourself whether you want to walk up to the door. As you step out of the car, you hear a spooky melody, but you can't discern the source. Your instinct is to flee, but then, you remember you're playing a character in this murder mystery party and must continue. Your heart races and excitement pumps through your veins as you decide to take a step towards the entrance.
Does that sound exciting? Or, try this alternative.
Scenario B: you pull up to the address on the invitation, and it looks like a typical suburban home. There is a festive pumpkin by the front door, but it's not carved or lit, but at least it's in the spirit.
After inviting your guests, you've got another shot at a first impression on the night of the party. Hit on all senses as your guests arrive - do not wait until they are in the door, as you've already lost the party planning game.
- Visual: lighting, fog, carved pumpkins, and any other spooky decor you can afford. Keep it in the theme, and be tasteful.
- Audio: have an ambiance track playing loudly enough for your guests to hear as they arrive, but not too obnoxious where your neighbors want to call the cops.
- Smell: this will depend upon your theme. For a general Halloween scent, you can make a 'potion' inside of a slow cooker. The potion can be made by boiling your favorite fall scents like apple slices, pumpkin pie spice, vanilla extract, orange peels, ground coffee, cinnamon sticks. Use this to scent your home before the party. Keep your eye on your 'witches brew' and add water as needed to prevent from drying out and sticking to your cooker. Or, you can get an air freshener with your favorite fall scent and spray or use a plug in.
- Touch: Maybe use green or purple 'monster fur' by purchasing some faux fur fabric from a fabric store to cover your buffet table or other surfaces. Sprinkle fun confetti to hit on the visual and tactile sensations.
- Taste: the moment your guests walk through the door, you should offer a festive cocktail and appetizers that are within the theme of your party. Don't make them ask where the bar or buffet tables are - they should be within the line of sight of the entrance.
3. Plan your offerings to fit the theme of your game.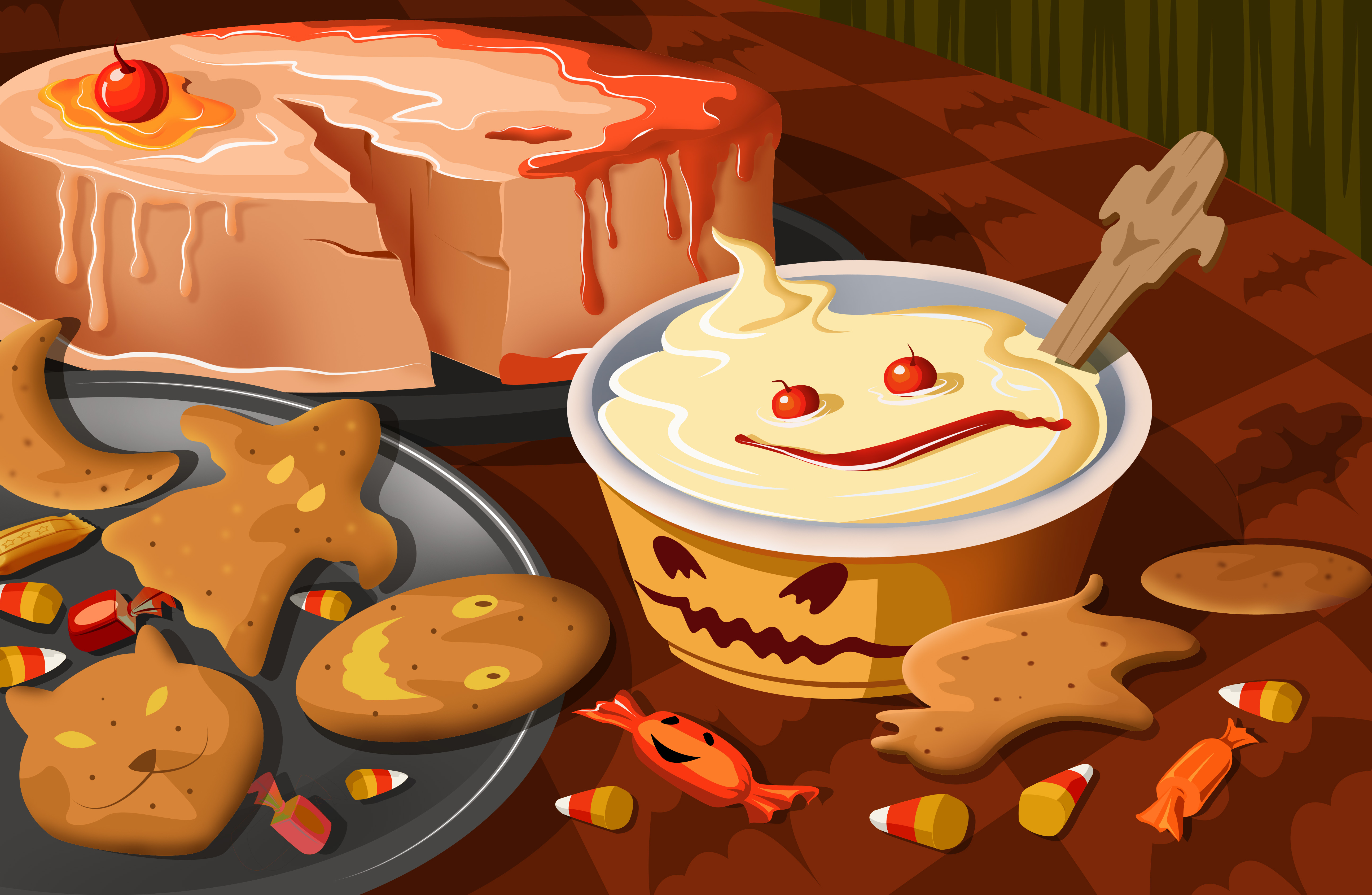 For the love of parties, do not host an event without offering food and drink. Without a selection of food and beverage, your party is doomed. On a budget? There's nothing wrong with a little BYOB or BYOFS (bring your own favorite snack). But you must spell that out with your invitation. The invitation should disclose if you are not providing food and drink. *Now, I step off the soap box.*
Here are the top ten party appetizers for murder mystery parties - click here
But this is a Halloween party, so switch up the traditional food and make it more Halloween-y. Here are some examples of how to take the traditional appetizers and spook them up:
- the pinwheels, opt for green (spinach) tortillas and drop a few drops of black food coloring in the cream cheese.
- the potato skins - use mozarella cheese (or any other white cheese), and go across the potato to make a mummy wrap. Use two olives for the eyes. Or, make them as usual and make spiders out of black olives on the top. Or, with the bacon bits, make fun pumpkin face shapes before you bake them.
- Brushetta - you can use the same scheme as with the potato skins to spook these up a bit.
- the piggies in a blanket - cut the pastry dough into strips and use to make a mummy wrap around the lil' smokies. Create the mummy's eyes with drops of mustard with bits of black olive as pupils.
Try this yummy recipe out for your buffet table this year:
STUFFED BLOODY BELL PEPPERS
Ingredients:
6 bell peppers (red)
1 lb. of ground beef
1 egg
½ cup of garlic bread crumbs
1 small yellow onion, minced
1 small tomato, diced
2 minced cloves of fresh garlic
½ cup ketchup
3 tablespoons Worcestershire sauce
2 tablespoons of mayonnaise
Salt and pepper to taste
½ teaspoon of basil
½ teaspoon of thyme
Directions: Preheat oven to 350 degrees F (175 degrees C). Grease an 8*8 baking dish. Mix the ingredients in a mixing bowl (set the bell peppers aside).
Clean the bell peppers. Slice off the tops and remove the core/seeds. Stuff the insides of the peppers with the mixture and place into the baking sheet. Bake until done, about 1 hour. You can drip ketchup along the sides for a 'bloody' effect.
And here's a great cocktail recipe:
BLOOD ORANGE MARTINI
Ingredients:
1 cup Tito's Vodka (or other type of Vodka)
1 cup chilled blood orange or Pomegranate juice
1 cup chilled apple juice
½ cup of orange liqueur
*Red food coloring drops to boost the color and make it spooky
Directions:
Mix thoroughly with an ice shaker and pour into martini glasses.
4. Decorate the space to set the mood.
If you have a huge budget, pick up some animatronic Halloween figures. These are always a big hit.
I will focus on party hosts with a limited budget here. These are my top five recommendations to transform a space into a Halloween bash without crashing your bank account.
- Spider webbingThis is such an inexpensive way to transform a party space. When you think you're done - keep going until you've used every fiber in the bag. You'll see the room go from cheery to spooky in about ten minutes.
- Lighting - I don't suggest using real candles, as you've got a crowd in an unfamiliar space, and accidents happen. Opt for LED lighting - the flamed candles that look realistic are great. Place them around the room and dim the lights if you can. Place fairy lights anywhere (battery powered is optimal).
- Balloons - if you're going for festive Halloween (instead of scary), then you cannot have enough balloons. Grab a helium tank from a party store for about $25 and fill as many orange and black balloons as you can. Make clusters by filling with helium, tying with a ribbon on the knot and fastening to a weight. The weight can be a soup can or rock covered in tissue paper. Place the clusters in the corners of the room for a 'let's party' effect.
- Confetti - confetti is inexpensive but adds a big punch to the decor. A 0.5 oz package can make a difference in the room when you sprinkle on all surfaces. It adds sparkle and flair and gives the guests something to touch - which is one of my hot buttons - hit on all senses when you host a party.
- Fog - I don't suggest putting a fog machine inside of your event space. However, the entrance is a must and if you have open windows or a patio where guests will be going - set up a fog machine on a timer to add some intrigue and spook to the space. Also, don't put dry ice inside - it can become toxic if your area isn't large enough for the gas (CO2) to disperse. Save the dry ice cauldrons for outdoors. Chauvet is my choice for dry ice and fog machines, but you can pick up cheaper brands for $30-$40 on Amazon or elsewhere.
5. Be prepared with the game materials.
My advice above is for all party hosts. Now, we've hit the most crucial part of being a murder mystery host.
Read your host instructions thoroughly, well in advance of the party.
Do not wait until the afternoon of the party, as you'll cause yourself to panic. Read in advance, and soak up the flow so you can go into the evening with full confidence. The games run themselves, and once everything is prepared and ready to go before the party - the host only has to pass out the cards in the correct order and maybe present a forensic report or other evidence (depending upon the game). I make it super easy to host, but if you are not prepared before the party, you're headed for a party apocalypse. It won't take you long to read the instructions, but I've been in this game (no pun intended) for a long time. If you don't prepare, you're asking to fail - even with an essentially foolproof process. Let's nix the possibility of anything but perfection on your big night - I can guarantee if you read the instructions (and not just skim them), you'll have a great success that everyone will remember for years to come. The staff at My Mystery Party are also there to assist you via email seven days per week. Also, boost your confidence by watching our walk-through videos here: www.mymysteryparty.com/videos We work hard to ensure your party is a blast!