Posted by Dr. Bon Blossman on Mar 27th 2016
Cinco de Mayo (May 5th) is a day that is celebrated all over the world. In Mexico, people gather with families, friends, colleagues and neighbors and host a massive fiesta in honor of this day which honors the 1862 victory of Mexico's victory over the French - the Battle of Puebla.
Getting the Cinco de Mayo party started:
1.Pick your murder mystery game. There are two to choose from on http://mymysteryparty.com.
Cinco de Mayo Fiesta Murder Mystery Game: a hilarious Mexican fiesta murder mystery for a Cinco de Mayo celebration for 8-15+ guests, ages 14+. Expandable to over 30+ guests! This game is set at the Montalban Hotel in beautiful Los Cabos, Mexico.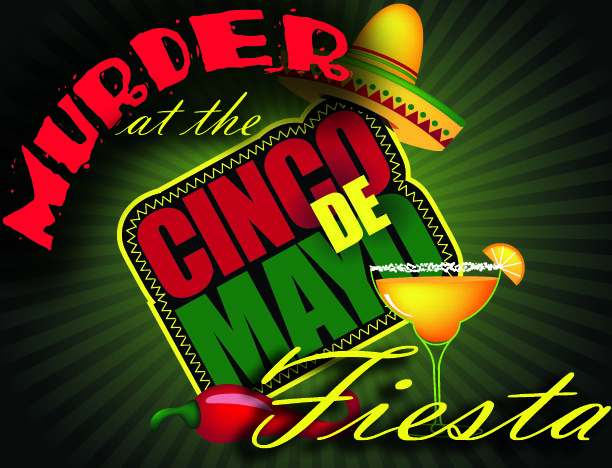 Cinco de Mayo Mayhem: A fun Mexican fiesta murder mystery for 8-14 players, 14 years and up for difficulty in a home party setting. Expansion pack (6 character) is available. This party is a block party hosted by a well-known socialite in the fictional neighborhood of Del Rio West.
2.Invite your guests: design festive invites using a fun slogan such as Margaritas & Fajitas, or Forget the Siesta, Let's Fiesta! Include the party date, time, location and RSVP deadline and contact information. Since fiestas are informal gatherings, sending an electronic eVite is acceptable! It's nice to include a map (i.e. Yahoo or Google map) for your guests that have not been to the party location before. Don't forget to send your guests to the corresponding pregame site at YourMysteryParty.com so your guests can watch the game trailer, read about the other players and more!
3.Get the décor ready. Adorn your party area with mini cactus plants, small sombreros filled with red hot candies, bouquets of red, white and green flowers and toy maracas. In any corner of the party area, there should be helium-filled red, white and green balloons with yellow ribbons. At any party store, you can pick up cheap sombreros and toss them around the space. Encourage your guests to wear them as they wish.Hang strips of lights in as many places as you can find – lighting is crucial once the sun goes down! Use colorful sugar skulls surrounded by cempasuchil flowers or simple baskets of red peppers as your table centerpieces. Since Cinco de Mayo is in the spring, flowers and bright colors are a must.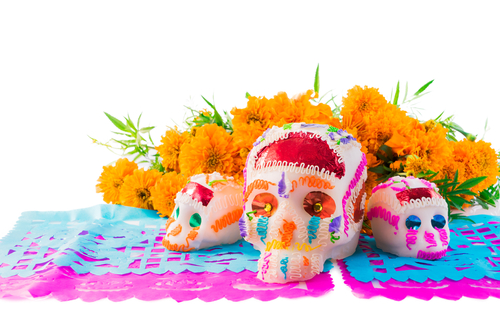 4.Get your playlist ready! No matter what you decide to play at your party, be sure that the following hits are included:
| | | | | | |
| --- | --- | --- | --- | --- | --- |
| Mexican Hat Dance (many artists) | La Bamba by Los Lobos | Macarena by Los del Rio | La Cucaracha (many artists) | Cinco de Mayo | Bon Bon by Pit Bull |
| Tequila – The Champs | Oye Como Va by Santana | Mexico by the Staves | Mexico by James Taylor | Bidi Bidi Bom Bom by Selena | Tequila Boom Boom |
| Senorita by Justin Timberlake | Livin' La Vida Loca by Ricky Martin | Down in Mexico by The Coasters | Bamboleo by Jahloul Bouchikhi | Spanish Eyes by Bert Kaempfert | Smooth by Rob Thomas |
5.Plan your menu. Mexican dishes are inexpensive and recipes are easy to follow. As soon as the guests enter the party space, they should be handed a margarita (virgin for the kiddos) and directed towards a buffet with an assortment of chips and salsa and guacamole. Warm chips are best, but don't stress out – having bags of chips on display will be fine as this is a casual event. Think about what guests can pick up from your displays without making a mess or leaving any residue on their hands. Chips are great. Mini tacos are great, but if you go the taco route, have appetizer plates available to catch any of the insides that spill out from the other side.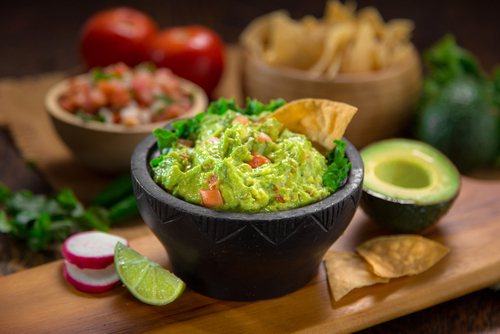 Fresh Guacamole (serves 8-12)
6 avocados (peeled, pitted, mashed)
2 limes (juiced)
2-3 tablespoons fresh, chopped cilantro
4 roma tomatoes (diced)
Dash of Worcestershire sauce
1 cup of diced purple onion
1 tablespoon Whataburger mayo (can substitute any type of mayo)
Salt, pepper to taste
Instructions: mash the avocados and add all of the ingredients and stir until mixed thoroughly. Add the salt and pepper slowly, tasting for the perfect amount of seasoning.
You can make alternative guacamoles by adding crab and mango, grilled Mexican corn, roasted pumpkin seeds.
Other dishes to serve are as follows:
| | | | | | | | |
| --- | --- | --- | --- | --- | --- | --- | --- |
| Five layer dip | Mexican Chocolate pots de crème | Coconut flan | Slow cooker chicken enchilada dip | Mexican wedding cookies | Grilled fish tacos | Slow cooker carnitas tacos | Chicken/shrimp/beef fajita quesadillas (you can cut these into bite sized pieces |
6.Prepare for the piñata challenge. Once the guests arrive, and you have read the murder mystery guest instructions, introduced the characters and have implemented round one of the game, you should break for a piñata challenge. You don't have to limit it to kids, either—who doesn't love swinging a bat with a blindfold on? All you need is a pinata from any party store (or make it yourself with paper mache) but don't forget to fill it with candy and prizes. Many times, they are sold empty. You'll need a bat and a blindfold, as well.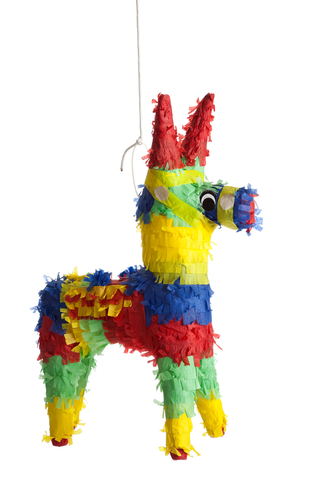 7. Get some popcorn and watch the instructional murder mystery videos to get ready for the big day!
Watch the How to Plan a Murder Mystery Party and How to Host a Murder Mystery Party instructional videos to ensure you have the hosting down!