Posted by Zakk Myer and Dr. Bon Blossman on Oct 6th 2022
Halloween season is upon us, and it's time to finalize your plans for your party and the trick-or-treater's experience at your home. Here are some fun tips and tricks for DIY costumes, food, décor, and more.
COSTUMES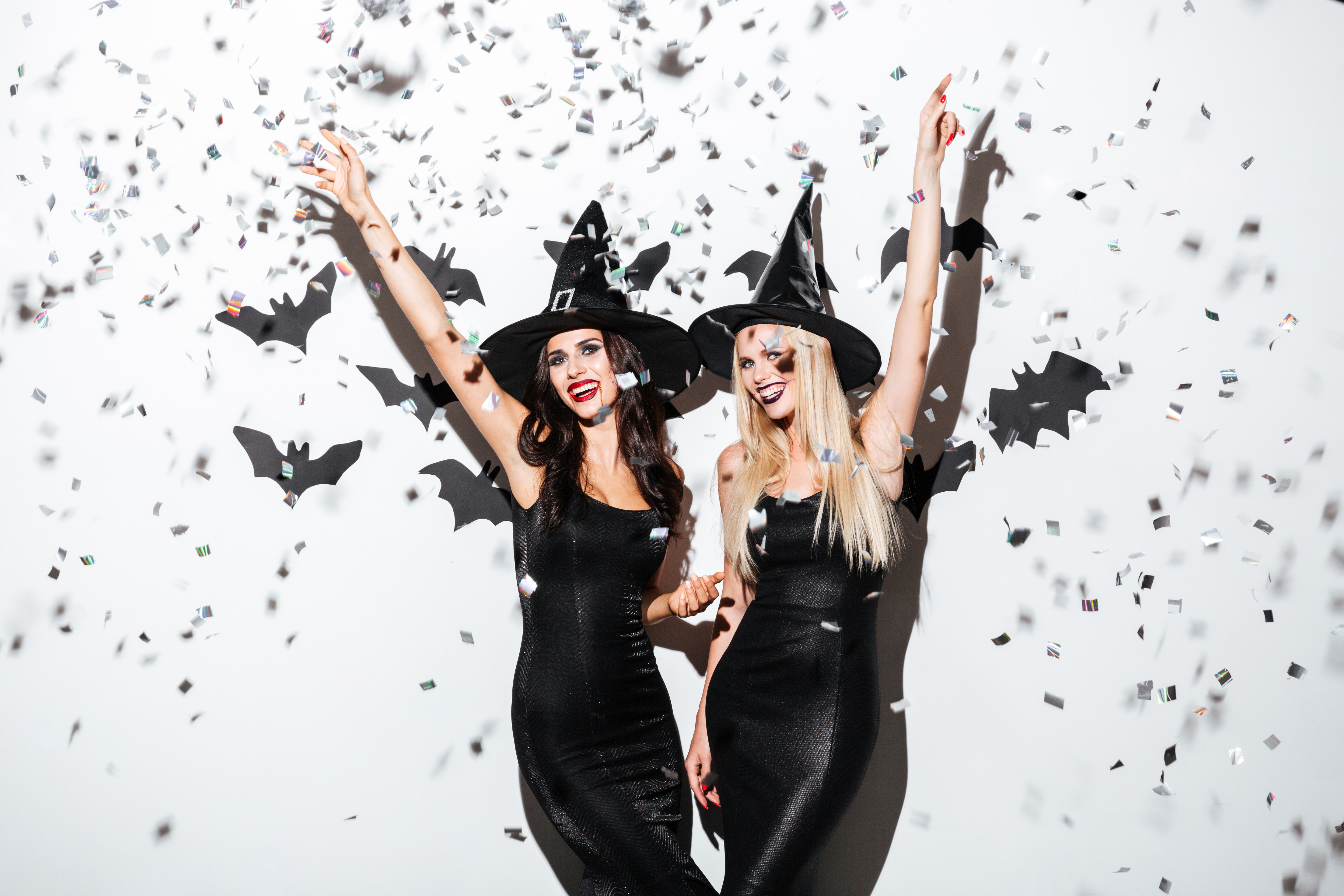 A witch costume can be simple as throwing on a witch hat with your favorite black dress or you can be more elaborate with the party store costumes.
---
Most of us will have a phenomenal costume lurking in our closet or around the house. There's no need to spend a bunch of cash or time to look festive on Halloween. If you have makeup - you can use this in various ways to accentuate your look outside the norm. Here are some ideas for quick and easy DIY costumes.
Professional athlete - if you have a sports jersey for your favorite team - throw it on and be your favorite player. If it's football, use eyeliner to make 'eye black' - those stripes that help absorb the sun under their eyes.
Secret Service Agent - You can turn that combo into many different costumes if you have a black suit and sunglasses. Stick an AirPod in one ear and hold a Walkie-Talkie or toy gun as a prop, and you're protecting the president.
Butler/Concierge - Using the black suit from the secret service idea, if you have white gloves - you can claim to be either of these.
Teacher: Wear a conservative dress, sweater/skirt combo, a button-up, and khakis. Be a bit cliche, have an apple and ruler as a prop, and slip a pencil behind your ear.
Chimney Sweep: Wear a button-up shirt, a vest, and pants (Capri-length if you have them), and a newsboy hat if you have it. Smudge some soot on your face and any exposed skin. You can make a sweeper from a stick/wooden rod, and some felt or other fabric around the house.
Black-eyed pea: This is super easy, cheesy but cute. Using makeup, make one of your eyes black with black and purple eyeshadow. Then, out of cardboard, felt, aluminum foil, construction paper - it doesn't matter, it can be anything - cut out the letter P and affix it to your shirt with double-sided tape or if it's an old shirt, use fabric glue. Preferably, use a contrasting color - a black shirt with an orange or white P. Now, you are a black-eyed pea! Get it?
Zombie: Unless you've recently cleaned out your closet, you have something old that you're tired of, right? Take the outfit, shred it, get a few sharpie markers, and mark it up, making it look dirty. Or, you can be authentic and drag it through the mud if you wish. With makeup, you'll view some tutorials on YouTube, such as this one:
50's greaser: White t-shirt, jeans that are rolled up, pretend box of cigarettes to roll in the sleeve of your shirt, and a bunch of hair gel to slick your hair back. If you have a black leather jacket to complete the look - that's even better.
Undercover cop: Wear anything outrageous and either purchase a toy or make a police badge out of cardboard and aluminum foil. When people ask what you are, show them your badge and say, 'Shhhh, I'm undercover.'
Serial killer: look as normal and friendly as possible. Even wear a 'hello' nametag and put your name as something very mundane. Then, when asked what you are, you tell them you're a serial killer - because most look like ordinary people.
Nerd: short-sleeve button-up shirt, buttoned to the top. Bright-colored bowtie. Suspenders and high-water pants. Wear white tube socks and black dress shoes. Add a pocket protector to your chest pocket with a few pens, and wear glasses with black frames and a white-taped bridge. Style your hair flat, greasy, and unflattering. Practice a laugh riddled with snorts, and you are good to go!
Celebrity/Rock Star/ Pop Star: you probably have some dress-up attire, right? Style your hair (and makeup if you wear it) most outrageously and perfectly. You must look on-point and be camera ready. If you look like someone famous - claim you are them.
Tourist: Get your vacation wear out, slap some zinc oxide on your nose, sunglasses, a floppy hat and carry a map - even though we all use phones to find our way, Gen X and Boomers will give you extra props.
Follow us on Pinterest for more ideas and great Halloween vibes.
LIGHTING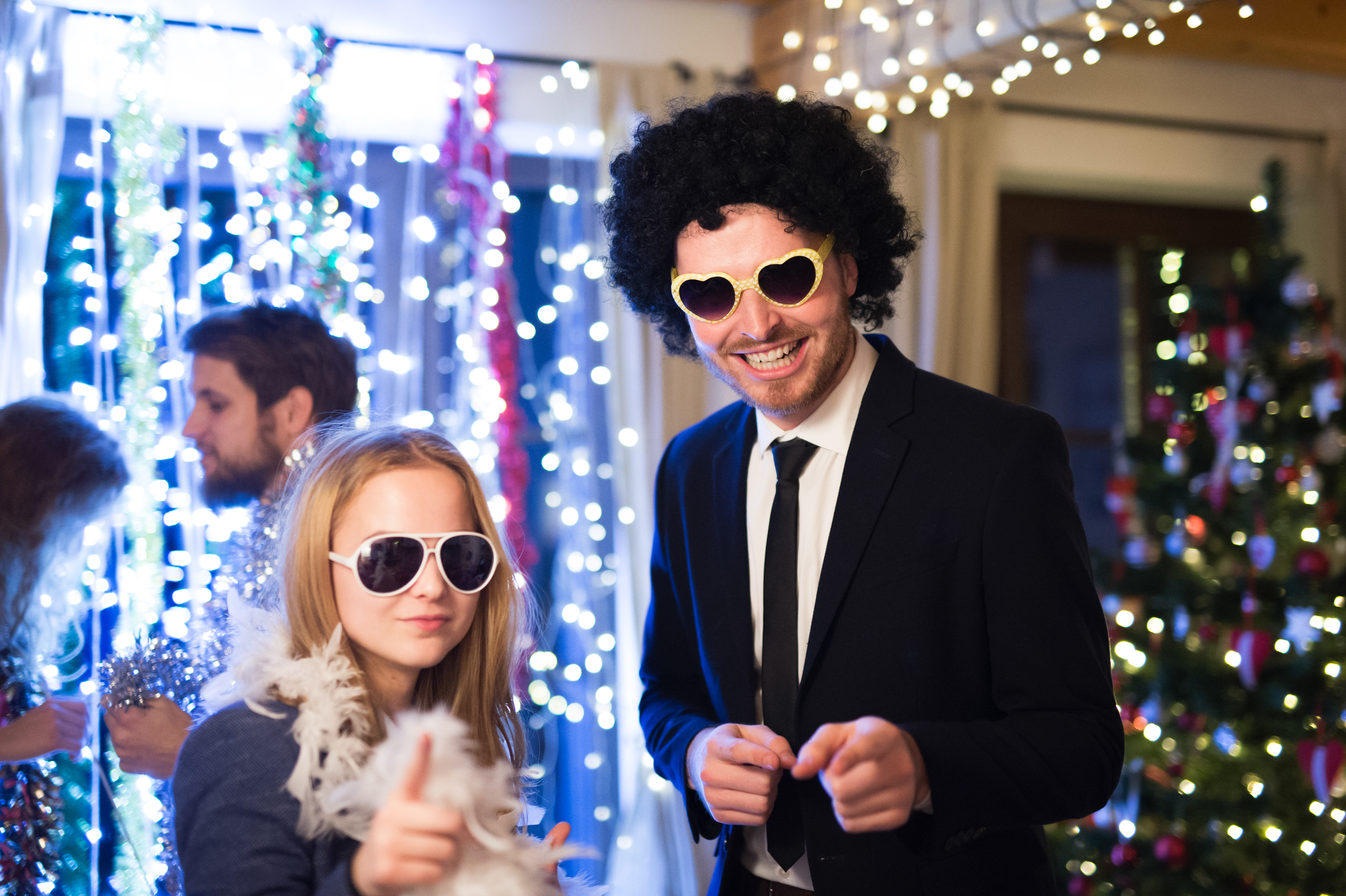 The string lights are everything to this scenario. They ooze festivity and make you want to party. Try to imagine this without the lights and you have a mundane living room.
---
Lighting is everything and can transform the mood of any space. However, real candles can be hazardous if not handled appropriately. One guest throws their coat on top of a tabletop candle…you have a party killer on your hands! Instead, use the battery-powered LED candles - you can pick them up at most home décor stores and party stores. Nowadays, they are more affordable and look incredibly realistic.
Try using translucent fabric like tulle over your existing LED lighting to diffuse and change the color. Change out your porch light with a black light for a fun effect on Halloween night. For an inside party, the lighting should be dim. Change out your lightbulbs with colored ones and fill the space with realistic flickering LED candles.
DECOR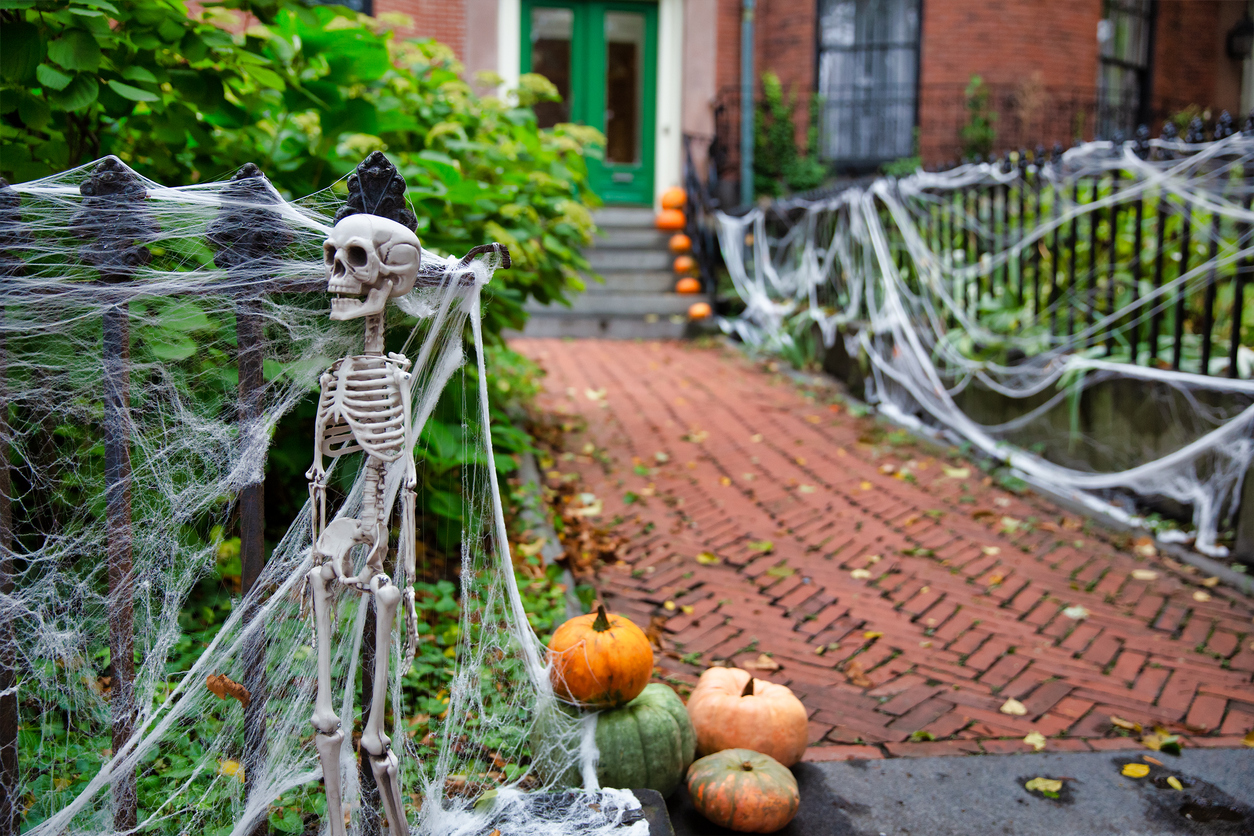 Clusters of pumpkins scream Halloween and are an inexpensive way to boost your exterior decorations.
---
Spider webs are at every party store during Halloween and it's the most economical and easy decor. You'll grab a tuft out of the bag just like cotton candy, spread it thin, and then drape through cracks and crevices in corners, counters, figurines, etc. You can't go wrong with this stuff; it goes a long way to set a creepy mood.
Set a crime scene using our CSI decor kit. Take some laundry and mold it into the shape of a body on top of the body chalk outline and throw a sheet over it. Stage the area with the crime scene tape and blow up the crime scene balloons with helium and make it festive.
Ghoultastic centerpiece. Do you have a buffet to set up? Create a gruesome head centerpiece by putting a Halloween mask on a Styrofoam wig head (or stuffing it with paper towels). As an alternative, use modeling clay over the Styrofoam wig head with acrylic paints, a wig, and marbles for the eyes. Put a fake blood pool around the neck of the head as if it burst through the table. Add stitches to the face, fake blood, and scabs. If you don't have a Styrofoam wig head, then stuff a trash bag with paper towels. It might take a bit to get the right shape, however. If you have a cloche - slip it over your masterpiece and watch your guests squeal with delight as they meet your surprise ghoul. Hey, this would make some funny TikTok videos, you know.
Set the mood at the entrance: Decorating the porch / front walkway is imperative, as it sets the mood for your party. If you don't decorate here, your guests will wonder if they have the correct date and house address! Decorating also gives the trick-or-treaters a fun atmosphere on Halloween night.
Line the walkway with illuminated carved pumpkins as you don't want to scare everyone off, so make it inviting before you scare anyone. Use fun pumpkins lining the walkway as a lure to get your guests and trick-or-treaters to the spooky front porch.
Stage a stuffed dummy to greet everyone. Grab an old set of clothes and stuff them with other old clothes. Put on a pair of shoes with stuffed socks and create a trash bag head by stuffing it with old clothes or paper towels. Put a wig on the trash bag head and slap on a scary mask (i.e., an old grandpa with a scary face). Sit this spooky effigy on your porch in an old rocking chair, and you've just made everyone scared to come closer!
The smoking witch's cauldron never gets old. Place a flashlight with a colored piece of saran wrap over an end (preferably green or red) and dry ice inside the pot. Tape the flashlight away from the dry ice, so it doesn't freeze and ruin the flashlight. Direct the flashlight beam towards the back of the cauldron so the indirect light will shine through the top.
MUSIC
Music is often forgotten, but you can't do Halloween without music or at least a sound effects track. Scroll through Spotify, YouTube, Apple Music, etc. Make a playlist, checking to see that you haven't added any unintended tracks with lyrics you might not want to blast out into the neighborhood or to your party guests. Play the music or sound effects at a reasonable volume. If you're having an event like a mystery party, you don't want to drown out the conversation.
Here is a fun family-friendly Halloween album:
NOMS
Even the most villainous of villains must have something to nom on. There are many great sweets and treats you can make with what you might already have at home. The food should be an extension of the decor, so make it spooky. There are tons of resources online where you can get Halloween-worthy recipes. Here's a few you can try:
CHOCOLATE'Y TARANTULAS
Ingredients:
4.5 cups of semisweet chocolate chips (baking chips)
Instructions:
Melt the chips in the top of a double boiler. Let the chocolate mix stand over the water until cooled for about 10 minutes – 15 minutes as you do not want the chocolate too liquid. Place wax paper on a cookie sheet. Pour chocolate mix into a piping bag with a ¼ inch piping tip. Squeeze chocolate onto wax paper in the shape of spiders. Allow to cool further and then peel off of the wax paper and store in an airtight container in the refrigerator.
WICKED WITCH FINGERS
Ingredients:
1 cup of salted butter
1 cup of powdered sugar
1 large egg
1 tsp salt
¾ cup almonds – sliced long-ways, blanched
1 tsp vanilla extract
2 2/3 cups flour
1/8 tsp baking powder
1 tube of red icing
Instructions: (makes ~4.5 dozen). Preheat oven to 320F. Mix the butter, egg, sugar, vanilla extract thoroughly. Add the flour, soda and salt and beat until mixed thoroughly. In a covered bowl, place in the refrigerator for 45 minutes. With chilled dough, form into finger-shaped forms and place on a greased cookie sheet. With a butter knife, make finger markings and then press the almond sliver into the dough as the fingernail. Bake in preheated oven for 15-20 minutes until a golden color. Let cool for 10 minutes. Add the red icing as blood in various places for a fun effect.
WITCH'S DIP
Ingredients:
1 package of ranch flavored cream cheese (10.5 oz)
1 package of chopped spinach, thawed (10 oz)
8 slices of bacon, minced
2-3 drops of green food coloring
Crackers to serve the dip with.
Instructions:
Mix the cream cheese, spinach, bacon and food coloring and place into a serving bowl. Serve with veggies or crackers. Makes ~ 2.5 cups.
BREAKABLE BONE TREATS
Ingredients:
4 large egg whites
1/3 tsp cream of tartar
1/8 tsp salt
2/3 sugar
½ tsp vanilla
Instructions:
Preheat the oven to 210F and line a cookie sheet with parchment. Beat the egg whites, tartar, and salt at medium speed until light and very fluffy. Gradually add the sugar while beating on medium speed and then add the vanilla. Using a piping tip, add the fluffy mix into a piping bag and create tiny finger-sized bone shaped snacks on the cookie sheet. Bake 1 hour until done. Dry in oven (after turning the oven off) for another hour and fifteen minutes. Makes approximately 5 - 5.5 dozen. Store in an airtight container.
For more fun Halloween costume ideas, party suggestions, Halloween-themed recipes, and tons of party games, check out the Halloween Party Host Handbook: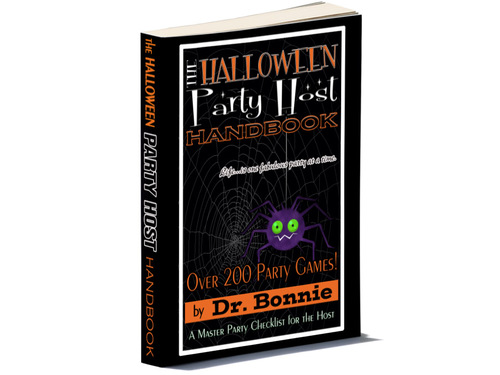 Make sure to follow us on Pinterest for some more great vibes this Halloween!