Kidnapping Catastrophe at the Karlton-Ritz
SKU:
KARLTON
|
UPC:
0612524677745
Availability:
Instant download upon purchase (PDF)
A lighthearted all-female, non-murder mystery party game for 6 to 10 girls ages 10+ in a hotel ballroom/VIP room setting. (Can be hosted in a home.) There is a co-ed expansion pack available with 10 more players (6F, 4M). This is the instant download upon purchase version of the game - no waiting, download instantly, and there's nothing to ship, so you avoid shipping fees! Easy to host, easy to prepare.
This game was updated on 2/6/18
Helpful Links:
10 character expansion pack

(Purchase separately)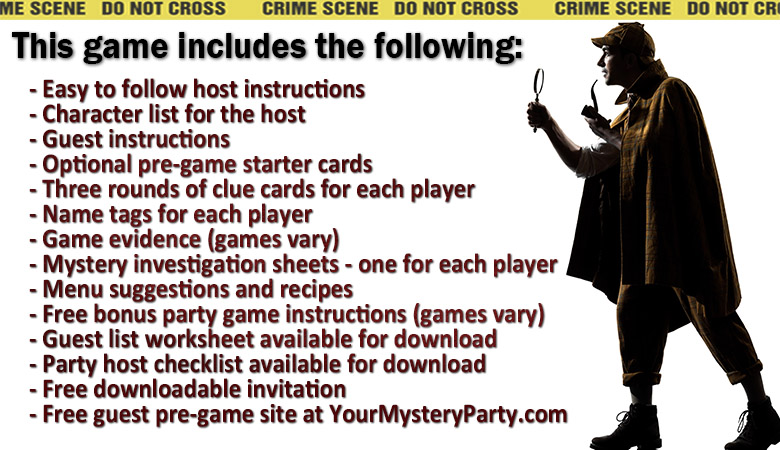 Mystery Synopsis:
The Karlton Ritz Hotel is sponsoring a charity bash at their luxury, 5-star hotel to save the New York bog turtles – an endangered species. The who's who is set to arrive on scene for delicious food, fun party games, and juicy gossip – all while raising money for the smallest turtles who are facing extinction in the Big Apple! A top movie star is rumored to be hitting the red carpet of this event – Robbie Pattenson, star of the hit Enchanted Gnome movie series! You have been invited to this exclusive event. This is where your story begins.
If you wish to host this (or any other) game for profit, you will need a commercial license or provide us with your 501C number for a charity fundraiser -

click here.
Minimum age:

10 years

Difficulty rating:

Straightforward, 3/10

Gender of character roles:

All-Female (required players) or co-ed by adding the expansion pack

# of players in main game:

6-10 players (all female)

Expansion pack(s):

10 players (co-ed 6F, 4M)

Expandable team players:

No

Date of publication:

Last revised on 2/6/18
Reviews
Great fun for 12 year old birthday sleepover

I admit it was overwhelming at first putting it together but it all came together at party-time. The timeline of events was very helpful. We had 6 girls participate and they had a blast! It was fun watching the whole things unfold.

Perfect Mystery for 11 year old birthday!

The entire process was so easy - they show parents exactly how to host and move the party along. Even our shy guests got really into it. We printed out character bios, added a few things into it, and hand delivered it to our guests the week before the party. Easy to social distance during this event. It took our party 2.5 hours with one break for dinner. Only one issue - some of the colored pages with clues only printed giant black squares, but this was remedied if we re-printed in black and white.

Awesome for a 5th Grade Birthday Party

I hosted this party with fourteen 5th graders and they absolutely LOVED it! I was able to host the party completely outdoors (we live in Florida) and hid the clues in different outdoor places. I had to improvise by putting things 'near' the bathroom vs. 'in' the bathroom, but it worked out great. Additionally, with so many kids - I was able to really move things along as they worked together. I would definitely host another party again and highly recommend this party in particular!

Did this party for my 12 yo daughter plus 5 of her friends. It was so easy to put together, everything in the kit was clear and in order. The girls had fun being in character and trying to piece the clues together. It was a successful party, I would definitely do one again. Loved it!

My 9 year old had a blast doing this with her friends. It was well organized but still flexible enough to add your own ideas.

Fun Party Idea for our Girl Scout Troop

This kit was amazing!!! It was so easy to plan out and make it come to life. The troop had a blast. It was just as exciting for the girls mom as it was for the girls to participate. We started out with some of the games and they were a hit. Each girl really got into character and we were all excited to solve the mystery.

Very fun party for my 11 year old daughter!

This kit was great! Everything you need was there including games, menu ideas and of course detailed instructions about how to play the game. It took me about 2 hours to prep including reading, figuring out instructions, cutting and assembly clues, codes, etc. The 7 girls at our party were fully engaged for about 3 hours! At the end they wanted to play some of the games again which took another hour! Fabulous entertainment and they all said it was so much fun!

My friends and I had so much fun with this game! We are all theater people so this is exactly the kind of party for us. I would recommend this for anyone between the ages of 10 and 16 who likes the idea of a murder mystery but doesn't necessarily want anyone did be a "victim". The characters are a lot of fun, and it's really interesting to see it unfold especially if you don't know the outcome. I loved it so much I'm doing the Ravenwood Mystery this year!