Wacky Pumpkin Town Panic | Family Halloween Whodunit
SKU:
PUMPKPAN
|
UPC:
0612524677578
Availability:
Instant download upon purchase (PDF)
A fun family Halloween Mystery Party (non-murder) for all ages, 7-14+ players! Ideal for families, church groups, youth groups, classrooms, or anyone who wants good clean fun on Halloween! You can expand the main game with the Happy Team (see character list for details) to add 20+ non-suspect, duplicated team players. There's also an expansion pack (purchased separately, link below) that adds 10 unique characters and a second expandable team.
Therefore, there are 24 unique roles available with the main game and expansion pack (purchased separately), and you can add up to 40 or more non-suspect team roles that have the same type of materials as the rest to cover 60+ players.
This is the instant download upon purchase version of the game - no waiting, no shipping fees! Easy to host, easy to prepare.
This game was revised on 8/31/23 and will not be seamless with previous versions. If your license is active, you can download the newest version.
Helpful Links:
10 character Expansion pack - Purchase separately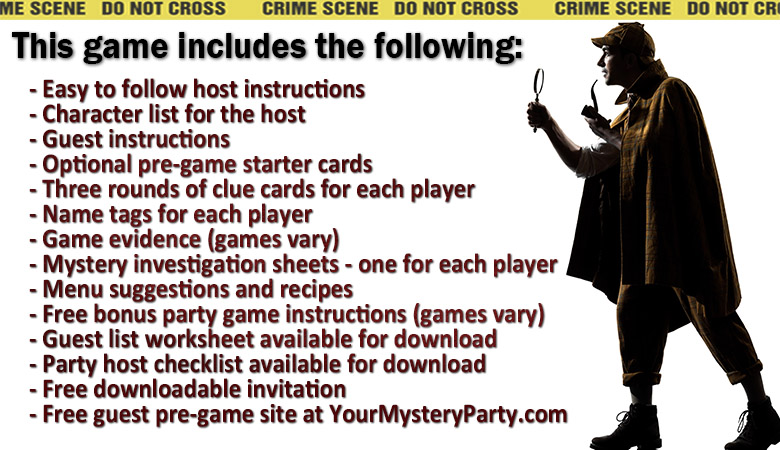 Mystery Synopsis:
It's time again for the annual Halloween celebration traditionally held at the Pumpkin Town recreation center. The townsfolk will soon arrive in their best Halloween fashion, anticipating the ultra-competitive pumpkin carving and giant pumpkin contests! The future guests cannot wait to enjoy spooky food while having a blast competing with fun Halloween party games.
However, we must all be aware of the rumors that some guests may have shocking news to unveil. Others have been spotted around town acting quite peculiarly of late. Let's hope all goes as planned on this highly-anticipated night in Pumpkin Town!
Follow My Mystery Party's board The Wacky Pumpkin Town Panic - a Fun Halloween Whodunit - Mystery Party (non-murder) on Pinterest.
Commercial Licensing:
If you wish to host this (or any other) game for profit, you will need a commercial license - click here.
Minimum age:

All ages, but the required players should be 12-13 and up.

Difficulty rating:

Moderate, 4/10

Gender of character roles:

Flexible

Number of players:

7-14 players

Expansion pack:

10 players

Expandable teams:

Main game has an expandable team (up to 20+ players, and expansion pack has a second expandable team. Expand the game to 60+ players.

Publication date:

August 2009

Last revised:

8/31/23 - previous versions will not be seamless.