Non-murder mystery party in a celebrity awards banquet theme for 8-16 female guests, ages 11 to adult (albeit it is an easier sleuth than our other adult games, given the minimum age). This party may be hosted in a home. The case involves a stolen award trophy.
There is an 8 player (6F, 2M) expansion pack available. This is the instant download upon purchase version of the game. There's nothing to be shipped, as you'll have everything you need with the download - no waiting, no shipping fees! Easy to host, easy to prepare.
You will receive a host instruction, printable and solution file with the purchase. The free invitation and link to the pre-game site are below, under helpful links.
Click here to view the nominated movies for the 100th Annual Oster Awards
Helpful Links: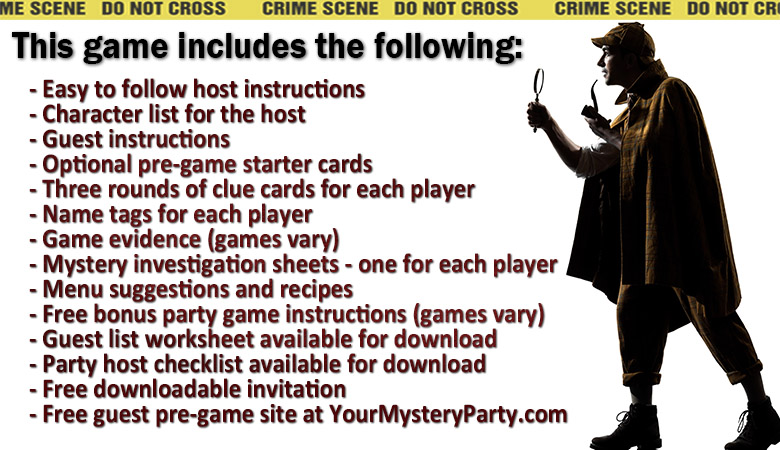 Mystery Synopsis
It's time to experience the glitz and glam of Hollywood at the 100th Annual Oster Awards. This year, this uber-exclusive awards banquet will be held in the historical Beverly Hills mansion of the legendary icon - Merry Monroe. A-listers are set to arrive on the red carpet wearing the crème de la crème of designer fashion. This will be a night of caviar and glitter as the nominees wait with anticipation for the big reveal of this year's Oster Awards! This is where your story begins.
If you wish to host this (or any other) game for profit, you will need a commercial license or provide us with your 501C number for a charity fundraiser - click here.
Note: we are not issuing waivers between September and January.
Minimum age:

11 years and up

Number of players in the main game:

16 females

Expansion packs?:

8 players (6F, 2M)

Expandable teams?:

No
Reviews
My purchase was the 100th Annual Oster Awards set, do-it-yourself kit. It was perfect for my daughter's 12th birthday. Our 18 guests were mainly 9-14 year olds. We played 3 of the suggested games while we waited for late arrivals & in between rounds. Kids were completely engaged and 3 were able guess the "thief". We purchased party products from our local store to support our economy

I would highly recommend this product. We hosted a party for 22 girls for my daughter's 12th birthday. It was an easy theme and an easy party to host. Everyone was super excited to attend and felt it was a unique way to celebrate a birthday. I have never attended a Mystery Party, so I was concerned it would be difficult to host. However, my daughter really wanted to have a Mystery Party, so I went for it and I'm glad I did. The directions are very detailed and easy to follow. The customer service is impeccable. They were quick and thorough...even answering emails late at night. I highly recommend this party and this website. I will definitely use them again and have already recommended them to many friends who asked after their daughter's attended the party and had so much fun!

This is a great choice for teens. I had 21 girls so I purchased the extended package. I loved that all the roles dressed the same. It was my daughter's 13th birthday party and since not all the people RSVPs, I did my invites as Hollywood theme and asked all the girls to dress up. I handed them the roles when they arrived. The kids had a blast. It is a good way to entertain teens at a party. The only negative thing I can say is the extended package had two male roles. Not sure why when the other 22 are females. ------------------------------------------------------------------------------------------------------------------------------------------------------ From MyMysteryParty.com Staff: The additional male roles are due to a large demand of roles for 1-2 brother(s) who may be around the same age as the partygoers. That's why they were added on to the expansion pack. We're glad you enjoyed the party!

I purchased this Mystery for my 11 year old's birthday party and the girls had a blast. They all participated and acted their characters. Definitely recommend it!

Excellent choice for my group of 12 year olds.

They are SCREAMING to do this again! Great game!

With a group of twelve 13 year olds, all of the guests got into character and kept the game going strong. They were upset when it ended! Will be doing another game soon, as the girls keep asking for it!