Posted by Dr. Bon Blossman on Mar 22nd 2016
Follow the following seven easy steps to host the ultimate '20s themed murder mystery party. Your guests won't stop talking about your event for years to come!
---
1. Your first task is to choose a murder mystery party game.
My Mystery Party has two 1920's murder mystery parties to choose from: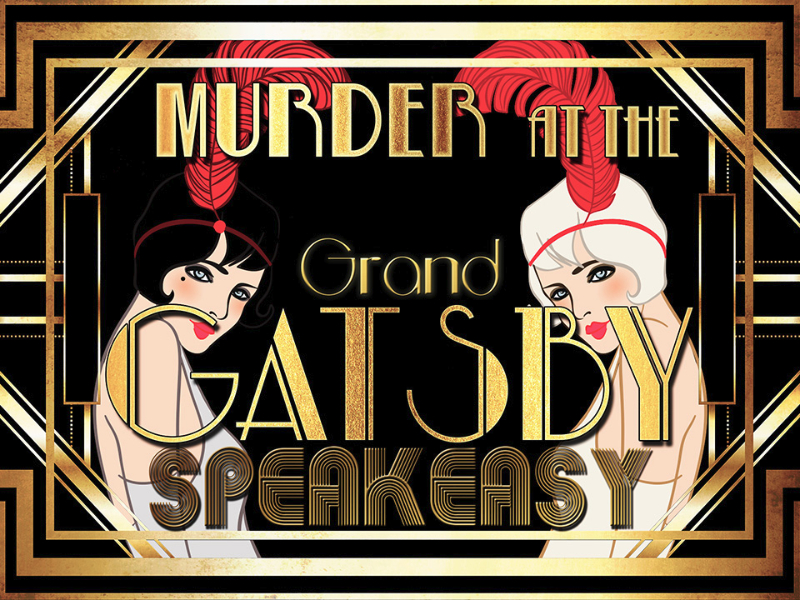 Murder at the Grand Gatsby Speakeasy: A roaring '20s murder mystery party that can accommodate up to 55 guests set at the height of prohibition in a 1920s speakeasy.
or
Murder on the Boardwalk: A Boardwalk 1920's Murder Mystery Party game for up to 36 guests set at the height of prohibition on the Boardwalk at the Karlton Ritz Hotel.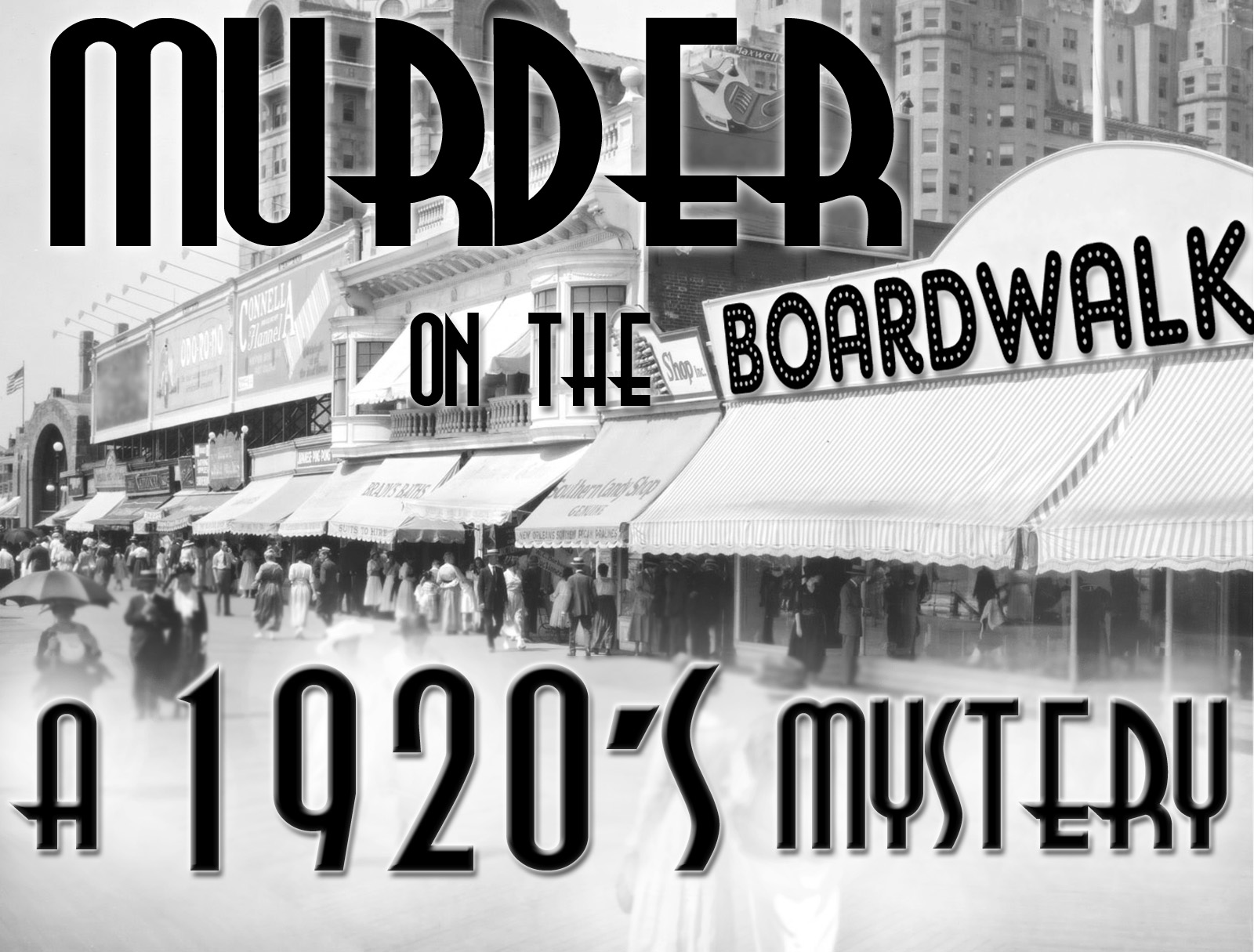 ---
2. Invite your guests
Keep things vintage, everything should remain authentic to the 1920's if you are going to give your guests an experience from start to finish. Sending an email about a Roaring '20s party wouldn't be a good start, so opt for a printed invitation and either hand deliver or use the snail mail. Use parchment paper for your invitations or you can age regular paper by soaking it in coffee and allowing it to dry. Do multiple soaks with drying in between until you are satisfied with the color. Print with fonts that emulate the 1920s such as the following – just Google them and download them, adding them to your existing fonts:
| | | | | |
| --- | --- | --- | --- | --- |
| Atlas Regular | Atlas Solid | Parisish by George Williams | Roaring 20s by Thomas Kading | Connie by Nymphont |
---
3. Decorate
Colors: It is best to stick with a classy color palette of black and gold with accents of white and silver.
Balloons: Use assembled balloon pieces (metallic & pearled) to fill empty spaces or maybe even use helium and allow them to coat the ceiling. Balloons are great on the budget and make your space festive. You can ombre the balloons with metallic gold and silver paint for a fun effect by painting the bottoms of them. Use clear balloons with gold and silver glitter inside (insert with a funnel before blowing up).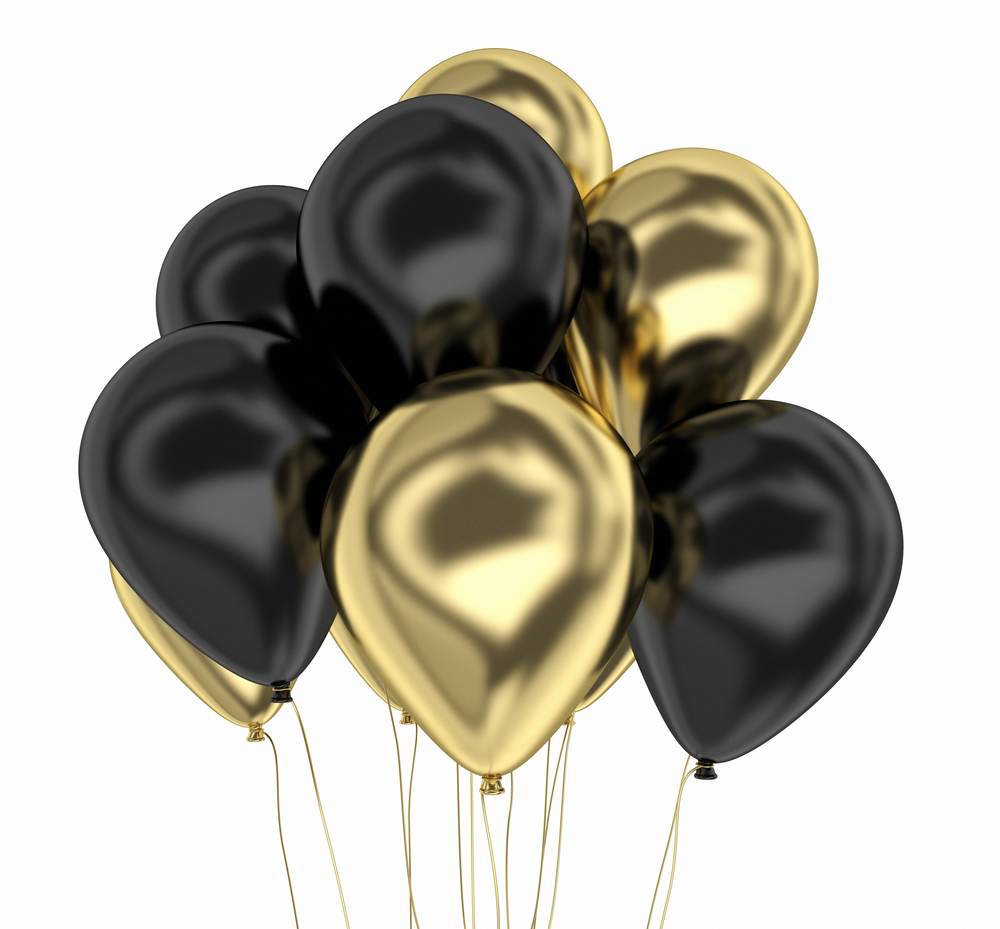 Prohibition boxes (liquor crates): These can stack in any corner of the room. Have the bottom row closed and the top row can be opened with packing paper and bottles sticking out. Use any sized cardboard boxes – large enough to carry liquor bottles - and get a large stencil of a 1920's style font such as Engebrechtre, Guanine, Popular Café NF Regular, or Milton Burlesque NF Regular. Using the stencil, write on the box with black Sharpie marker or paint the following phrases
| | | | |
| --- | --- | --- | --- |
| Imported Irish Whiskey | Hand-Crafted Rye Whiskey | Canadian Bourbon | Old Jamaican Rum |
| M & P Brewing Company | Premium Bottled Lager Beer | Pabst Blue Ribbon | Red Tape Whiskey |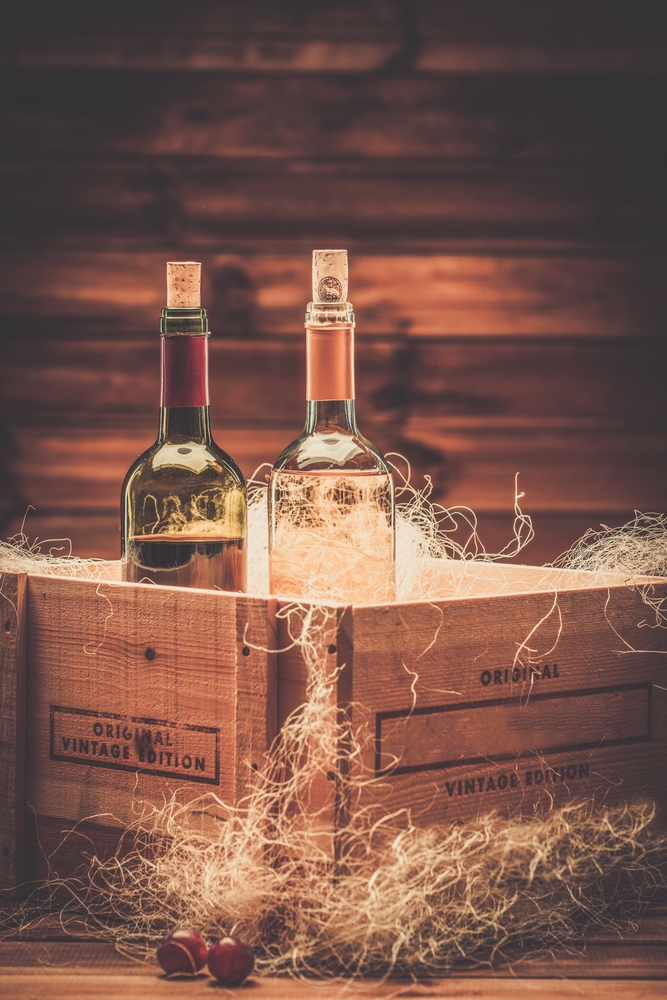 Feather centerpieces: From any craft store, purchase the following:
| | | | | | |
| --- | --- | --- | --- | --- | --- |
| In the wedding &/or Christmas aisles, look for any kind of decorative rhinestone, crystal or pearl strands – especially ones that end in large pendants. | Silver and gold wood paint | Two thin circular disks – anywhere from 4" to 7" in diameter. | 1-2" wooden dowel | Two wood screws | White single feathers |



Paint the dowel with the silver paint and the underside of the top disk with gold paint and allow drying. Assemble the dowel in between the two disks and place a screw through the disk into the dowel until flattened and you create a barbell shape. Then, paint the top of the disk gold. Using E600 or hot glue, affix the pearl strands or rhinestone strands from the top disk and allow hanging down to the bottom disk (as pictured). Cut shorter strands (with pendants) to hang midway and attach to the top of the disk. Glue the feathers in a cascade in the shape of a bouquet on top of the disk, hiding the glued tops of the strands

Decorated champagne bottles: From any craft store, purchase the following:

| | | | | |
| --- | --- | --- | --- | --- |
| Gold glitter | Modpodge | Strands of pearls | Black feathers | Gold paint |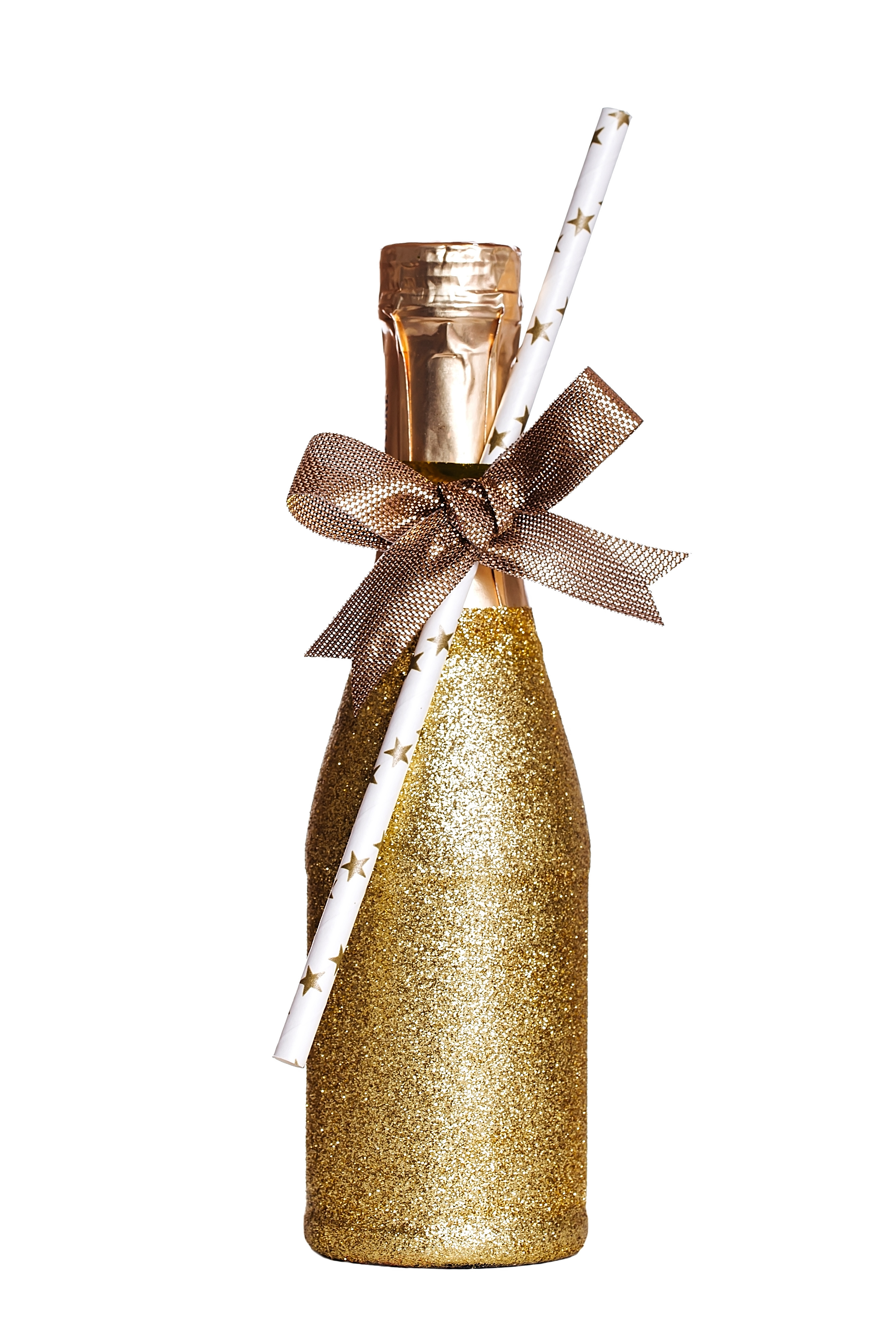 Using old champagne bottles (empty), paint the bottles with the gold paint and allow drying. Using the Modpodge, cover the mid to lower part of the bottles with the adhesive and roll in the glitter until thoroughly covered, allowing drying. Wrap the pearls around a few times and allow draping down. Assemble a bouquet of black feathers inside of the bottle, spewing out in a lovely arrangement.
Alternatively, you can decorate the bottom portion of unopened bottles and use at your party for a real splash of bling at the bar!
Table cards: If you are hosting a seated dinner, you'll need to have some type of table cards to number your tables. Using the same paper and font as your invites, print out the table numbers and place inside of golden frames and set them out on each table. Take some strands of pearls and drape over the frames and surround with a sprinkle of gold confetti and rhinestones on the table.
Placecards: Keep it elegant and simple. Purchase plain white place cards and print according to the instructions in the packet using an elegant 20's font. Add one black &/or white feather with a rhinestone on the side with hot glue.
Candles: Candles set an elegant mood, so grab some mason jars, throw in a bunch of loose rhinestones, add an LED tealight and put it on top, with the rhinestones surrounding. Using the Modpodge from the glitter champagne bottles as described above, glitter the top of the Mason jar and tie a gold ribbon around the rim. Place the mason jars on circular mirrors around the room. You'll be amazed at how the ambiance will feel classy and inviting.
Twinkle lights – get battery powered light strands and wind around the buffet table for additional lighting and ambiance. Also, use these light strands at the bar.
Play Great Gatsby – if you have a television or other type of device in the room, stream/play the Great Gatsby movie (or a silent film from the 20's) without the sound.
---
4. Food
Your menu is part of the décor of the overall party, so your food must be elegant, and appetizing. If you are having a seated dinner, include a menu on each place setting – using the same parchment paper as your invite and the table numbers.
-Champagne: even though it was prohibition, people still had alcohol at most parties. Use the wide brimmed glasses, and not the modernized flutes. Set up a champagne glass pyramid on a table-clothed round table for a classic touch.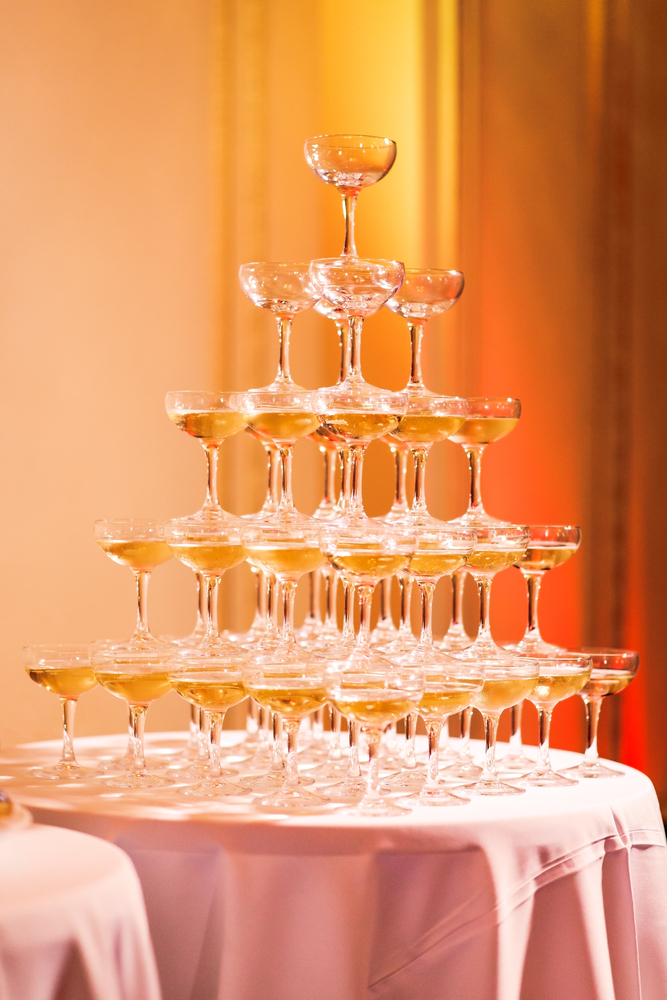 -Mint Juleps – must be served in a stainless steel mint julep high ball.
-Non-alcoholic libations – tea and lemonade were both served in the Great Gatsby novel.
-Spiced baked ham
-Poached Fresh Salmon with Hollandaise
-Veal and Ham Croquette
-Oyster Rockefeller
-Sweet Breads
-Salmon Mousse on toast
-Pastry pigs (pigs in a blanket)
-Mashed potato
-Mushrooms
-Lemon Cakes (pound cake)
-College Pudding with Vanilla Sauce
---
5. Music
You can't host a party without ambiance music! Keep tunes going the entire party from the 1920s.
| | | | |
| --- | --- | --- | --- |
| Jazz | Dance Bands | Blues | Broadway |
| Louis Armstrong | Paul Whiteman (aka: King of Jazz) | Mamie Smith | Eddie Cantor |
| Duke Ellington | Nat Shilkret | Bessie Smith | Sophie Tucker |
| King Oliver | Ben Bernie | Lemon Jefferson | |
| Jelly Roll Morton | Ted Lewis | Sara Martin | |
---
6. Suggested Attire
Women should dress in flapper couture. Women were in a period of change in this era, so their skirts got higher, and haircuts were shorter. Not to say you must cut your hair for your party – you can simply put in some finger waves and be in the spirit (search how to finger wave your hair on YouTube for instructional videos). Or, you can grab a short bob cut wig! Scope out some costume shops for a great flapper dress, equipped with fringe, of course, and don't forget your sequin headband with feathers! Costume stores usually have fun accessories such as strands of pearls, fake cigarettes in holders, and feather boas to top off your look.
Men's fashion for a party typically included a tuxedo with tails. The 1920s were a formal era and men always looked dapper. Top off the suit with gloves, a top hat, and black patent oxford shoes.
---
7. Get some popcorn and watch the instructional murder mystery videos
Watch the How to Plan a Murder Mystery Party and How to Host a Murder Mystery Party instructional videos to ensure you have the hosting down for your big night!