Diamond Heist mystery party for kids
SKU:
MANCREVOL2
|
UPC:
0612524677776
Availability:
Instant download upon purchase (PDF)
A detective themed mystery party for all girls - ages 12+ for 7-12 guests! Get ready to do some serious sleuthing and have a blast solving a fun and challenging mystery at River Peak High School! This is the instant download upon purchase, nothing needs to be shipped, so you avoid shipping fees and don't have to wait. Everything needed to play is included in the game file. For the boxed set, click the link below to have us prepare your kit, under Helpful Links.
Note: For the younger aged guests (10-12 years), parent hosts might need to give assistance with clues and sleuthing!
This game was updated on 2/2/18.
Helpful Links:
8 character expansion pack

(Purchased separately)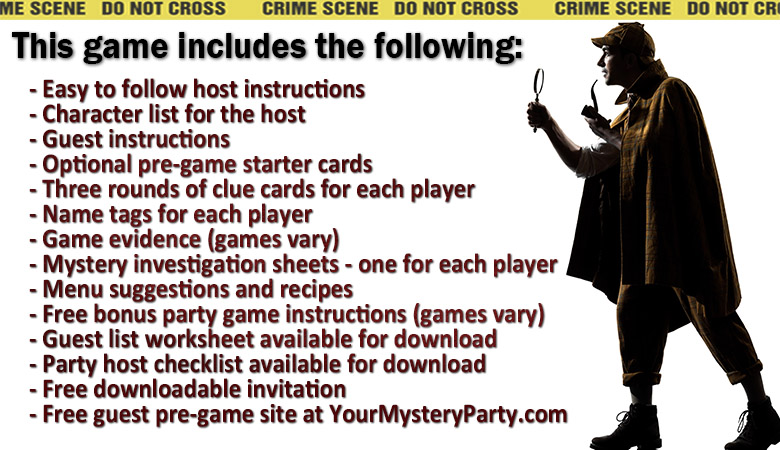 Mystery Synopsis:
Mancy Crew is a senior at River Peak High School. With a natural talent for investigation, she founded the River Peak High Forensic Science Club, which has even assisted the police department on occasion!
Mancy received word from the local police about a diamond heist at Hemsberg Diamonds Jewelry Store in the town of River Peak. The Zamkiki Diamond is the fourth largest diamond in the world, and was on display at Hemsberg Diamonds until jewel thieves broke into the store and stole it from the case!
The River Peak Forensic Science Club has agreed to assist the police in the investigation since there was evidence of the thieves having ties to River Peak High! The club members are set to meet at Hemsberg Diamonds Jewelry Store. Mancy will brief the group upon arrival, but she also has a few stress-relieving games planned to break up the meeting. As Mancy says - relaxed sleuths are effective investigators! Rumor has it there may be codes to break and riddles to solve before the jewel thief can be found. This is where your story begins.
If you wish to host this (or any other) game for profit, you will need a commercial license - click here.
Minimum age:

12 years

Difficulty rating:

Straightforward, 3/10

Gender of character roles:

All-female

# of players in main game:

7-12 players

Expansion pack(s):

8 character co-ed pack

Expandable team players:

No

Date of publication:

February 2018
Reviews
The Diamond Heist was fun.

I used this template for a tween birthday party, girl turning 12 and 7 additional girls. This was a fun game that the girls enjoyed. At first they were unsure of what to do and thankfully we had two adult players that were able to get things started. Once they understood how it worked they began to have fun. I made the decorations using my cricut and Nancy Drew images I cut out. My daughter loved them! I found clipboards at the Dollar store, note pads, pens with diamonds on the ends and glitter pens. I bought some magnifying glasses on Amazon and bundled them all together for the girls party favors. I also put their names with vinyl on each clipboard and the girls really loved them, especially those with unique names that never get things with their names on them. Each of the players dressed the recommended part which added to the fun. The clues were fun for the 12 year olds, but were difficult for her 7 year old sister to follow but she had fun nonetheless. We did not play any of the bonus games that were given as it seems they are meant to be outdoor games or in very large homes. We wouldn't have had time to play the games anyway because the game itself is long. FROM MMP STAFF--------------------------------------------------------- We are super glad your party was a hit! We agree - 7 years old is a bit too young for this challenge level. We do beta test our games and have found this game is best for 12 and up. Nevertheless, we're glad they had fun!

Party for 8-12 year old girl book club. The younger girls definitely couldn't figure out the clues 10-12 year olds perfect level. I loved that it got the girls talking. I've done other mysteries from this company and have enjoyed them all. We did buy a fake diamond from the dollar store that was fun for them to find. I also purchased clipboards for their investigation sheets that I'd recommend that it made it easier for the girls to walk around a talk.

Ideas, planning, timings, printables perfect, clues, extra games, Thanks for brilliant party.

Ideas, planning, timings, printables perfect, clues, extra games, Thanks for brilliant party.