The Murder of Archibald Grim
SKU:
ARCHGRIM
Availability:
Instant download upon purchase (PDF)
A fun teen mystery party for 8-16 players, ages 12 to adult, in a traditional-themed castle setting. This will be an easier sleuth for adult groups. The victim is not a player in the game. This party may be hosted in a home. This is the instant download upon purchase version of the game. There's nothing to be shipped, as you'll have everything you need with the download - no waiting, no shipping fees! Easy to host, easy to prepare. If you prefer the boxed set, scroll down to the bank of links below and click on the link to have our staff prepare the kit for you.
With this purchase, you will receive a host instruction, printable, and solution file (PDF). The free invitation and pre-game site links are below, under 'helpful links.'
Game release date: 3/28/18. Game revised on 9/23/21
Helpful Links:
Click here to view the character list!
Click here for the free, printable invitation!
Click here to view sample game materials.
Click here for the 8 player expansion pack #1
Click here to have My Mystery Party staff prepare your game kit!
Direct your guests to the corresponding invitation site at 'Your Mystery Party'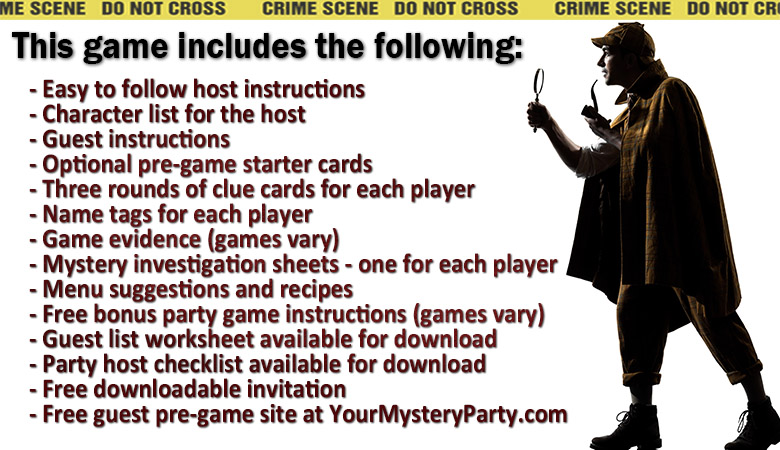 Synopsis:
Archibald Grim was a coldhearted miser who despised everyone in the town of Graymire. A greedy recluse, Mr. Grim only left his castle for his lucrative job as the president of First National Bank. Archibald spent his life hoarding his wealth and spewing hatred, sorrow, and despair across the city. It was no surprise when Archibald Grim's body was found by his housekeeper this morning. It appears that someone has slipped the chap a bit of poison. The burning question is - who is guilty? Is the killer an employee of the bank? A former colleague? His butler? Or might it be a family member who wants an inheritance? The Graymire police have listed you as a suspect in the murder of Archibald Grim. You must journey to the Grim Castle at the exact time on the notice that was sent to your home. It would be dangerous not to attend, as the police might consider your absence a confession. This is where your story begins.
Minimum age:

12 years

Number of players:

8-16

Expansion pack?:

8 player

Expandable?:

No

Gender?:

Flexible.

Difficulty Rating?:

Easy to moderate 4/10