The Murder of Archibald Grim
SKU:
ARCHGRIM
Availability:
Instant download upon purchase (PDF)
A fun teen mystery party for 8-16 players, ages 12 to adult, in a traditional-themed castle setting. This will be an easier sleuth for adult groups. The victim is not a player in the game. This is the instant download upon purchase version of the game. There's nothing to be shipped, as you'll have everything you need with the download - no waiting, no shipping fees! Easy to host, easy to prepare. For the boxed set, see the party ready pack link under the helpful links section below.
There are four PDF files to download with this game - a host instruction file, printable file, solution key, and an optional free invitation file.
This game was updated on 9/23/21.
Helpful Links:

8 character Expansion pack - Purchased separately

Boxed version - My Mystery Party will prepare your party ready kit

Direct your guests here - the corresponding pre-game site at Your Mystery Party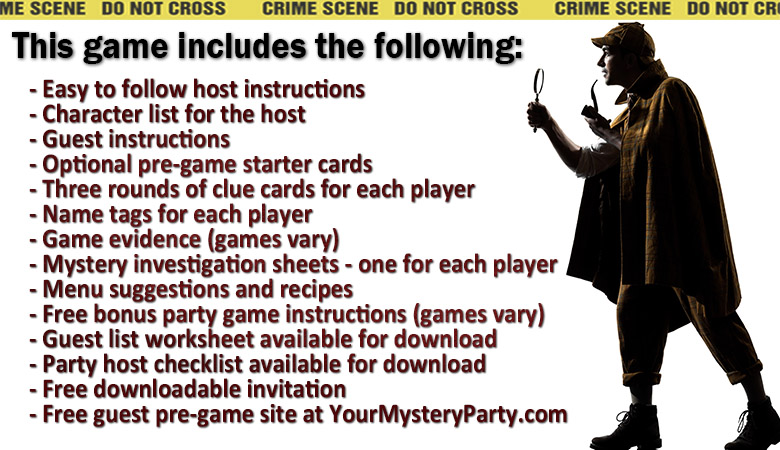 Murder Mystery Synopsis:
Archibald Grim was a coldhearted miser who despised everyone in the town of Graymire. A greedy recluse, Mr. Grim only left his castle for his lucrative job as the president of First National Bank. Archibald spent his life hoarding his wealth and spewing hatred, sorrow, and despair across the city. It was no surprise when Archibald Grim's body was found by his housekeeper this morning. It appears that someone has slipped the chap a bit of poison. The burning question is - who is guilty? Is the killer an employee of the bank? A former colleague? His butler? Or might it be a family member who wants an inheritance?
The Graymire police have listed you as a suspect in the murder of Archibald Grim. You must journey to the Grim Castle at the exact time on the notice that was sent to your home. It would be dangerous not to attend, as the police might consider your absence a confession. This is where your story begins.
If you wish to host this (or any other) game for profit, you will need a commercial license - click here.
Minimum age:

12 years

Difficulty rating:

Easy to moderate, 4/10

Gender of character roles:

Flexible, only 1 required female

Number of players in the main game:

8-16, There are 8 required players and 8 optional

Expansion pack(s):

8 player

Expandable team players:

No

Date of publication:

Last revised on 9/23/21
Reviews
Such a fun night for the girls!

We used this game for my daughter's 13th birthday party and they had a blast!

Great product, easy instructions for host

We did the online download (did not send paper invitations, printed our own name tags, etc.) to save money. This was perfectly fine and did not take away from the party. Our daughter is 12, and we had a total of 10 tweens over for an Archibald Grim murder mystery party instead of a traditional Halloween party. These are very sharp kids, and only 2 of the 10 figured out who the murderer was, so it was sufficiently challenging. I also made a photo booth using a gold "streamer" background and some Sherlock Holmes props from Amazon, and that was was a huge hit. I told the kids their costumes had to all be borrowed items or something from Goodwill, that they didn't need to go out and spend a lot of money. They could have made it easy and done so, but this gave them the challenge of being creative. I look forward to finding an excuse to do another mymysteryparty event!

I hosted a murder mystery luncheon for my Girl Scouts and their moms. We had so much fun. They loved dressing up. All the directions and materials were very easy and made for a very enjoyable time. My daughter now wants to do one for her birthday party.

13 year old theatre kids? It's a hit!

Hosted almost a dozen seventh graders for our son's birthday party this weekend, and Archibald Grim was awesome! Easy to run with the materials in the downloadable PDF, and we're definitely excited to do it again!

Great fun for 11/12 year old girl's birthday party

The girls had a ball playing this game. They were very excited in advance of the party to arrange their costumes and become their characters. During Round 1 they got the feel of the game, and by Round 2 they were seriously collaborating evidence and invested in discovering the murderer. They jumped on new evidence as it came in: the scavenger hunt for Grim's decoder and the forensic analysis report were devoured with excitement. By Round 3, they were all eager to announce their pick for murderer and explain why. The excitement was palpable as each character discovered her innocence and finally, one discovered her guilt. Age 11/12 was perfect for this game. The birthday girl's sisters ages 10 and 8 were enthused during round 1, but their interest gradually waned because some of the vocabulary had to be explained to them and it was tough for them to understand some plot and character elements. We decorated one room with a "chalk outline" of the deceased using 1 inch white electrical tape and placed a "spilled" coffee cup next to it. The room was blocked off with yellow and black caution tape. The dining room was set for a formal dinner and the centerpiece was two candle sticks and piles of chocolate gold coins. Because the game was downloaded, the images, invitations, and information could all be edited for our particular needs. We would recommend this game!

We used this pack for my daughter's 13th birthday party. We had 18 girls aged 11-16. I love that the murderer is a mystery until the very end! I think only 4-5 girls guessed the answer correctly - they all had great thoughts on it and everyone had a BLAST! The characters are funny and leave a lot of room for the girls to make them their own. We'd definitely purchase from MyMysteryParty again. I highly recommend this game for your teens! (Or even adults looking for a fun, fairly easy mystery).

Fun night of good, clean fun

Loved that the game was murder, but in the cleanest and least gory of ways - if that even makes sense. Had a group of ten teens from 11-15. The challenge was great, and only three of the players got it right, but I think that's super! They were boasting for hours!!! Please release some more games just like this!