Posted by Lauralynn Brown on Apr 12th 2021
What is one of the key staples of any social event? The food! Enjoying delicious food or a full meal with friends and guests is a great way to bond and bring the event together, and something that can really be indulged in! Catering services just add a little zing to any event or party and honestly take so much of that cooking stress away from the host!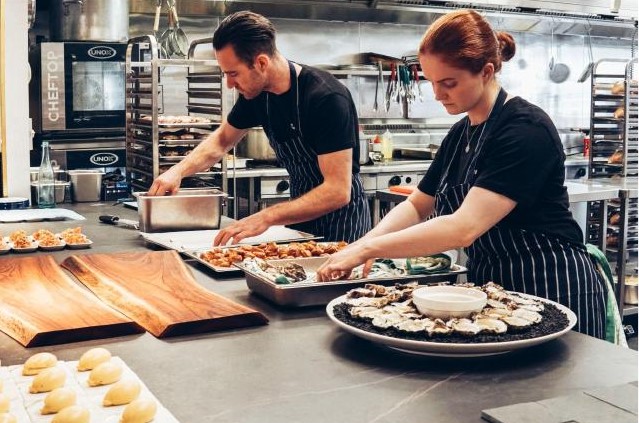 If you are looking to have your event or party catered, here are five things you should look for in any potential candidates!
Good reviews
When it comes to purchasing things online or looking up services, we tend to see if they have good reviews first! You want to be sure that the caterer you choose has a good reputation and solid business. Look for reviews online, or ask around to see who's worked with them before. You want your caterer to be trustworthy and credible!
The right certifications
If you find a caterer you would like to work with, make sure they are properly certified and meet Health Department and Insurance Agency requirements. You can easily avoid complications if you ask them to provide their certifications. If they cannot, move on to the next candidate!
How they prepare their food
It's essential to know how your caterer prepares and/or delivers the food! Will they prepare on or offsite? Are there extra delivery costs? Can they work within your timelines? Will they need space to operate onsite? These are all critical things to consider and ask your caterer before hiring! Ensure you have a clear timeline and explanation for how they will do things before making your decision.
Staff
Depending on what kind of event you are hosting, you'll need to decide how many staff members you'll need! Will there be a buffet going? Do you have an open bar? When hiring your caterer, keep these things in mind and ask if they have staff available and what the extra costs will be per server.
Costs
When it comes down to it, sometimes the deciding factor is the overall cost of a service. Are you operating under a budget? Does this caterer have any hidden fees? Does it cost extra for staff or waiters? Think about your expectations, if you're willing to splurge a little bit, what type of food you want, and what kind of quality you're paying for (and don't forget the tips).
When hiring your caterer for your event, don't be afraid to ask them essential questions! Do your research and make the decision based on what your needs are. Catering can either make or break your party!